(Editor's note: Writer and BEST blog contributor Isaac Peterson has come up with a creative way to spend his time at home right now; challenging himself with brain teasers. Try them out yourself below. KT)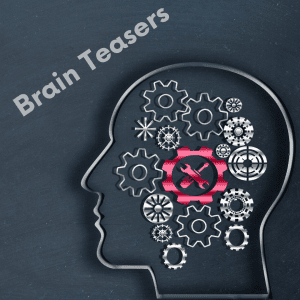 Like most people right now, I'm mostly stuck indoors having the opposite of fun.
Everyone who lives in this house is stuck in here with me, and all the people, and the sound that goes with it, is really giving my traumatic brain injury (TBI), a good working over.
How am I going to last without going stark raving loony from the sensory overload? 
At least I like to read, and between books and the internet, I have plenty of reading material, .
Looking through my books for the next one to read reminded me of a book I used to own, and like, as a sixth grader. The book was called One Minute Mysteries and contained fictional situations and challenged the reader to come up with explanations for them.
Most of them weren't really obvious, either. They took some real thinking outside the box; some of the answers would cause someone to do a face palm because the explanation was so obvious once you found out what it was.
Here are some one minute mysteries, I found, also called brain teasers (just the thing for people with brain injuries, eh?).
Want to see how many you can solve? 
Each numbered mystery is directly followed by the answer.