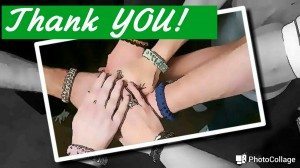 What an amazing week of caring, sharing and showing the love!
Five days, $5: support real-life superheroes and give 'em ($)5!
Virtual high fives all around!
Many thanks for all the monetary gifts to support the real-life superheroes of the brain injury community and bringing awareness to the cause! We appreciate your generous support to help BEST grow and continue to offer the BEST resources, tools and support systems possible to those living with brain injury and their families.
Didn't get a chance to contribute to the campaign? No worries at all! Donations of any amount are warmly accepted year round. Click HERE to get started!
Looking for other ways to be a BEST superhero supporter?
Here are some ideas!
Membership: Become a BEST member! Membership has its benefits! Check out our membership levels by clicking HERE and see what membership package fits you and your family BEST!
Holiday (and year round) shopping: Still have some holiday shopping left to do? Put your shopping dollars to work and support BEST! BEST is part of the Fred Meyer Community Rewards program and the Amazon Smile program (amazon.com). Click HERE and you'll learn all about these great programs.
Visit us on social media: Get all the latest and greatest updates, news, events, pictures and more on the BEST social media pages. Give us a "like" on Facebook, by clicking here. Follow us on Twitter, by clicking here.
Happy Holidays!