The Brain Energy Support Team (BEST) is proud to be a partner and BEST friend to HeadStrong.  This innovative organization serves the pediatric brain injury community and their families here in Washington State.
HeadStrong has a number of engaging and terrific activities and events this fall. They are also a fantastic resource and wealth of information for the entire brain injury community.
Mentoring, picnics, stories and information for caregivers in the Seattle area are displayed here to get us "headstrong" for the weekend! Break out those calendars!
The 2015 Mentoring Programs
Our BEST friends at HeadStrong are well-known for their terrific and informative mentor programs for brain injury. We are proud and excited to announce that these programs are back again this fall with even more engaging and enriching programming. All workshops will take place at the University of Puget Sound (UPS) in Tacoma, Washington.
Here's the scoop on the fall offerings. Click on the links to learn more about each workshop, registration, pricing and more.
Rebuilding Identity, Tuesday, September 29, 2015 from 5 p.m. to 8 p.m. 
Conflict Resolution, Tuesday, November 3, 2015 from 5 p.m. to 8 p.m. 
Meaningful Projects and Activities, Tuesday, December 1, 2015 5 p.m. to 8 p.m. 
The 2nd Annual BEST/HeadStrong Picnic, Sunday, October 11!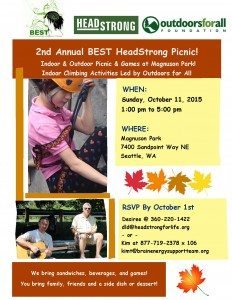 Stories of a Lifetime at Camp Korey, October 17!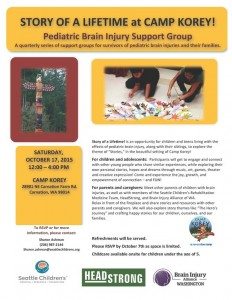 BICA Caregiver Support Group
All carepartners and caregivers of people living with brain injury welcome! We share our stories and resources and support each other in our roles as helpers after brain injury.
For dates, see flyer below or click here.
6:00 to 8:00 pm
Good Shepard Center, Room 221
4649 Sunnyside Avenue
Seattle, WA 98103