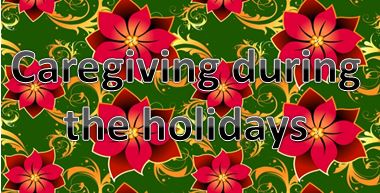 Well, it's the final week before Christmastime.
Wow.  THAT went by fast.
As you know, each Tuesday on this blog, the Brain Energy Support Team (BEST) offers two tips and strategies to help caregivers make the best of the holiday season. Here are the two tips for today (adapted from the article, "Stress and the Holidays: Coping Strategies to Keep you Sane" by Helen Hunter, ACSW, CMSW)
1. Work minute by minute on your attitude. Postpone becoming angry and show understanding and calmness. This technique should be used not only during the holiday period but every day!
2. Any task you have chosen to do, whether it be the cooking, cleaning, gift wrapping, card addressing, organizing, decorating or shopping, it is to be viewed as a choice that you made. Try to have fun in tackling these tasks, which will make the holiday easier and keep your spirits positive.