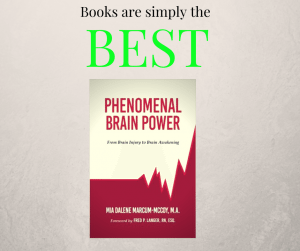 Mia Dalene Marcum-McCoy  is more than a survivor.
The author, mother of two, philanthropist, renowned raw food chef and proud BEST board member,  is also an individual living with a traumatic brain injury. And while by definition, she survived some challenging experiences and events, she took her healing and life path on an unexpected but extraordinary journey.
She learned to sing.
And we are not talking the kind of singing we do with our voices. Instead, Marcum-McCoy sang from her soul and her experiences, all of them, good and bad. She embarked on a journey to find ways to heal her body and her mind; it is with that journey that she discovered that her future would not be limited by her brain injury. Instead, she found the purpose to a new life, new dreams and new experiences.
"Phenomenal Brain Power: From Brain Injury to Brain Awakening," is the inspirational account of Marcum-McCoy's powerful journey of regrouping after injury and preparing for a new life of hope and possibility. Prepare to be inspired, as Marcum-McCoy chronicles her challenges and triumphs, with courage, tenacity and optimism (there's even some amazing recipes included, as an added bonus).
Like what you have read above about this book? Well, you can have the opportunity to win a copy of the book, signed by the author herself! Starting at noon on Thursday, October 20, 2016, stop by the BEST Facebook page  and you can enter to win our fall book giveaway. The winner will be selected by random drawing at 4 p.m. on Friday, October 21, 2016. The winner will be announced in a post right after the drawing.
Entering is easy. Simply like the post and you are entered to win! Read more about giveaway guidelines and rules below.