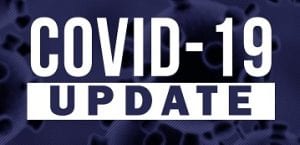 The COVID-19 virus continues to affect communities across the country. Restrictions and, now the decision by WA DSHS to no longer fund peer-to-peer support groups has dramatically impacted the brain injury community. The BEST team understands how devastating and challenging all of this is. We know how difficult this has been for many in our community because we are part of this community. We are committed to ensuring that everyone has up-to-date information and resources available during this time.

On 11 September 2020 WA Department of Health released the latest statewide situation report, which reflects an overall decline in COVID-19 activity as of late August. The report also highlights signs that keeping our distance, limiting gathering size, and wearing face coverings are working to slow the spread of COVID-19.
To keep the COVID-19 virus from spreading it is vital that all Washingtonians

Keep six feet away from others,

Wear a cloth face covering,

Wash your hands, and cover coughs and sneezes.

Enjoy recreation and do business locally to avoid spreading the virus across county lines.
The Governor stresses it's "important for Washingtonians to continue staying home as much as possible, and do their part to keep everyone healthy." We thank everyone for their effort to abide by Governor Inslee's Safe Start guidelines. Below is an easy to remember graphic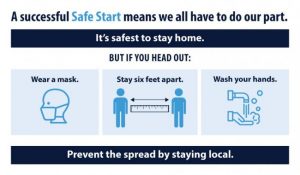 Knowing when to wear a face mask may seem confusing. However, based on Order 20-03 signed by the WA State Secretary of Health, John Wiesman, the use of face coverings in any indoor or outdoor public setting in the state. The order applies to anyone who is:
Inside of or in line to enter any indoor public space

Seeking health care services

Waiting for or riding public transportation

Outdoors and unable to keep six feet away from others not in their household
There are exceptions to this order for children under the age of five and people with a medical condition, mental health condition or disability that prevents them from wearing a face covering. In no case should children under two years of age wear a face-covering due to the risk of suffocation.
We know that many of you in counties that have moved into Phase II of the Governor's reopening plan may want to rush out and enjoy parks, visit friends across the state, enjoy a restaurant, but we urge you to continue to be vigilant in your efforts to remain safe, healthy, and respectful of others by preventing the spread of this virus.
Below is the graphic and information about the Smart Start initiative. Links are provided to WA resources and national information sites about COVID-19. Be sure to check back as developments are announced and updated on this page.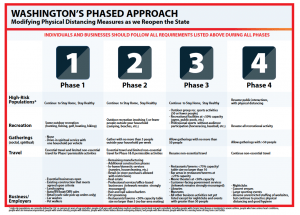 Governor Inslee's phased "Smart Start" approach   
This is the plan the Governor and public health officials have in place for resuming recreational, social and business activities. Every phase still requires physical distancing of at least 6′ and that appropriate health precautions are taken by everyone. Health precautions include using personal protective equipment in certain workplaces. Find out more here, https://www.coronavirus.wa.gov/what-you-need-know/whats-open-and-closed.
Counties are in various stages of the "Smart Start" plan. As of 1 September, NO County is in phase four. Find out what phase your county is in by visiting this page on the Governor's website; https://coronavirus.wa.gov/what-you-need-know/county-status-and-safe-start-application-process
Find out more on the Governor's coronavirus website; https://coronavirus.wa.gov/what-you-need-know/safe-start

BEST will continue to support our facilitators and members of peer-to-peer support groups as best we can through these tumultuous times. While we are not providing in-person gatherings or meetings we are continuing to host online meetings, virtual events, and providing the tools and resources for groups to remain socially connected while supporting physical distancing.
How can we continue to remain physically distanced and socially connected?
Continue using free video tools such as Skype, Google Hangouts, Google Meet, or Zoom to have a video call with someone or host a group call instead of meeting in person.

Have a buddy system within your support group in which two people call one another regularly to check in and encourage one another.

If you belong to a support group that has a private Facebook page, participate in conversations there.

Consider starting a phone tree. Each group member calls two others twice a week.

Text or email friends and family

Consider using a video messaging app like Marco Polo

This might also be a good time to explore BEST in Second Life.
Taking these steps will help to slow the spread of the virus in our communities. This will, also, help to reduce feelings of isolation.
All personal care recommendations we have promoted over the past few months are still at the top of our list of recommendations. Additionally, we support the following recommendations:
Pursuing an essential activity, like shopping for groceries or going to a medical appointment.

Getting takeout food. (Food deliveries also are permitted).

Going to work at an essential business.

Going outside for walks and exercise as long as physical distancing of six feet is maintained.

Suspected violations of the governor's orders regarding essential business functions and physical distancing can be reported.
Be sure to bookmark this page and come back often. We will continue to provide updates as we receive them.
It the meantime, there are ways to help reduce risks of illness. They are:
Stay home, especially if you or someone in your family is ill.

Keep a distance of at least 6′ between yourself and others.

Wash your hands thoroughly with soap and water for at least 20 seconds.

Avoid touching your eyes, nose, and mouth.

Wear a personal face mask per CDC and WA requirements.

Keep frequently used, shared, and communal surfaces and objects clean and disinfected.

Use an alcohol-based hand sanitizer that contains at least 60% alcohol if soap and water are not available.
Remember, if you're going to spend time with other people, outside is better than inside.
The Center for Disease Control (CDC) has a pdf flyer available for download on their website with general information about this Coronavirus and what you can do.
We've listed some additional resources below:
While the circumstances continue to change and we adjust our outreach, support, and services as necessary, we thank you for your patience and your cooperation. We continue to vigorously monitor the local, state, national and federal guidelines about the virus. As new information becomes available, our team will keep you well informed so we can all respond swiftly and appropriately.
BEST remains committed to the health and safety of our community, especially now as the warm Summer weather is inviting us to come outside to play. If you have concerns or questions, please contact us. We are happy to help you.
The Brain Energy Support Team (BEST)
last updated 15 September 2020