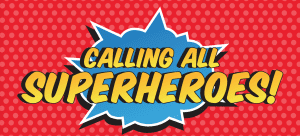 Join us in Second Life for our BEST CogniCon 2020 on February 28th and 29th!

It's a super engaging cognitive convention designed to share information about brain injury, brain health, and supportive communities and programs in Second Life.
This year's theme is "Creativity Is A Superpower"! And there's no better way to manifest that superpower than hands-on superhero activities and exciting people to network with. PLUS there's an amazing lineup of presenters! Best of all, this conference is totally and absolutely FREE!
Please note that you must be a member of the Second Life community to attend the conference. Learn more on our BEST In Second Life page; http://bit.ly/BESTinSL
Be sure to share the fun by sharing this link with friends on your social media; http://bit.ly/CogniCon2020.
*** Schedule of Events ***
Please note that all times are SLT and this schedule is subject to change.  Keep watching this page for updates.
All events begin here; SLurl – http://maps.secondlife.com/secondlife/Etopia%20Peninsula/72/232/23
Use the teleporter system to get to the different presentation areas or walk the nature paths and explore the BEST PEER Center Campus.
*** Friday, 28 February ***
9am – Namaara MacMoragh – Tour of BEST PEER Center for Nonprofit Commons
Nonprofit Commons is the largest nonprofit support community in Second Life. As part of their weekly Friday meeting. Namaara will host a tour, discuss creativity and its impact on healing and empowerment for those with brain injury.

11am – Namaara MacMoragh – How BEST bridges Second Life experiences with Real Life results

1pm – Ludova – Campbell's Hero Walk and Creativity
Location – BEST PEER Center – Hero Walk
The Hero Walk is an interactive exhibit which leads a person through the colorful life of a hero. A carefully chosen color is associated to each of the twelve steps of Joseph Campbell's hero journey. This presentation leads a group through the Hero Walk. Creativity is the superpower of remote association. We are all heroes, and we can all use the superpower of creativity. You will use it when you walk the Hero Walk with me, and associate the steps of the Walk with your own life.
3pm – Gentle Heron – Virtual Worlds Creatively Support Those with Disabilities
Location – BEST PEER Center – Amphitheater
Virtual Ability enables people with a wide range of disabilities to thrive in online virtual worlds. Founded in 2007, VAI offers peer support and a community enriched with educational, social, and entertainment opportunities. Virtual Ability creatively provides a supportive and engaging environment for those with disabilities to enter and thrive in online virtual worlds. Learn how creating these kinds of special places enriches the lives of all who participate.
4pm – Flo Betterman – Value of Support Groups
Location – BEST PEER Center – Amphitheater
Support Groups are opportunities for both people with brain injury and their family members to discuss the difficulties and hardships they are facing, as well as the accomplishments and joys in their life. They are a safe space for everyone to engage in and grow. Many people think they're not "support group people" until they attend one. Learn about the creative and engaging activities Our BEST Groups offers participants and how they can improve quality of life for everyone.

5pm – Zinnia Zauber – Reveal Your Superpowers Through Color
Location – BEST PEER Center – Amphitheater
Learn about color's persuasive power of productive, emotional interactions and how color encourages active participation with artist Renne Emiko Brock and author of "action-packed superheroes – your guide to revealing and utilizing your superpowers". Color instantly communicates your true nature, superpowers in the form of strengths, and how you wish to engage with the world across several mediums including apparel, artistic imagination, and authentic online interaction.
6:30pm – SolarPunk Club Networking Social
Location – SolarPunk Club on Etopia Prime, SLurl – http://maps.secondlife.com/secondlife/Etopia%20Peninsula/72/232/23

7pm – Superhero Party with DJ SHINY
Location – SolarPunk Club on Etopia Prime, SLurl – http://maps.secondlife.com/secondlife/Etopia%20Peninsula/72/232/23

*** Saturday, 29 February ***
10am – Wisdomseeker & Dancers Yao – Why and How Virtual Worlds Can Be Good for Your Brain!
Location – BEST PEER Center – Amphitheater
Inspiration Island is a virtual playground filled with activities that are all designed to strengthen brain functions, stimulate creativity, and honor the unique spirit in each of us. Wisdomseeker, Founder of Whole Brain Health/Inspiration Island, and Dancers Yao, Founder of Elder Voices/Collective Member, will illustrate the present and future of this holistic, individualized approach to health that is enriched by taking place in a virtual world.
11am – Wisdomseeker – A Tour of The Brodmann Brain at Inspiration Island
Location – Inspiration Island; SLurl – http://maps.secondlife.com/secondlife//143/191/23

12:30 – Namaara MacMoragh – Creative Respite Ideas for TBI Caregivers
The Brain Energy Support Team understands the needs of caregivers and employs a variety of ways to support and engage them. There are many ways to support or provide respite for caregivers. This presentation will address what BEST suggests in real life and how, using Second Life BEST, has created a safe, easy to access, and surprising way to provide regular respite for caregivers of those with brain injury.
2pm – Marly Milena – Symbolic Modeling As A Creative Process
Location – Octagon at WBH – SLurl – http://maps.secondlife.com/secondlife/Inspiration%20Island/26/90/23
Symbolic Modeling or SymMod can be thought of as a tool for capturing ways of perceiving that would not manifest by thinking or talking alone. SymMod allows you to shift perspective, try out possibilities, connect your body-mind visceral experience sitting at the computer to your visual creativity. You can play with options for making connections between what you create, see, think and feel. We use available building technology symbolically and metaphorically instead of immersively! 
4pm – Flo Betterman – Build A Superhero Workshop
Location – BEST PEER Center
This is a hands-on creativity workshop to explore identity and what it means to navigate the world after brain injury. Building skills not required.
*** Our SuperSpeakers! ***
Zinnia Zauber (aka Renne Emiko Brock) – Renne is an artist, instructor, and superhero promoting the importance of creative education and community participation in the arts and sciences that are active and inclusive. She creates one of a kind handcrafted art, apparel, textiles, computer assemblages, sculptures, videos, and publications that embrace the empowerment of brilliant hues, individualism, and acceptance.As Zinnia Zauber in Second Life she teaches at Peninsula College in Second Life and encourages students to explore the full range of their creativity while connecting them with nonprofits and businesses. 
Gentle Heron (aka Alice Krueger) – Alice Krueger is a former teacher of sciences, mathematics, English, and special education from kindergarten through college level. She has also been an education researcher and professional development provider. She is now permanently disabled with multiple sclerosis. Her world contracted due to the isolation of disability, and in response, she founded the Virtual Ability community in Second Life. Alice is also president of Virtual Ability, Inc., the nonprofit which supports the Virtual Ability community and its activities through collaborative projects with educators and researchers.
Website – https://virtualability.org/
Wisdomseeker (aka Lynne Berrett) – Lynne Berrett, MA, MSW, is co-founder of the nonprofit Ageless Mind Project, whose mission is to offer research-based activities and programs designed to improve the brain health and total well-being of participants. Through these experiences, participants gain knowledge and tools to make meaningful changes in their own lifestyles. In Second Life, as owner of Inspiration Island, Ms. Berrett is the Founder and Executive Director of Whole Brain Health, the virtual-world home of the Ageless Mind Project.
Website – https://virtualinspirationisland.org/ and http://agelessmindproject.org/
Dancers Yao (aka Kara Bennett) – Kara Bennett, PhD, is the co-founder in 2007 with Dr. Susan Patrice, of Elder Voices, a nonprofit that explores ways of bringing human rights to health care. For for the past twelve years she has offered education in virtual worlds that encourage learning problem-solving strategies to help respect human rights. She has published articles in peer reviewed journals regarding problem-solving strategies in making decisions about health care, and using virtual worlds to teach about human rights. Her membership in the Screen Actors Guild and Actors Equity Association offers the opportunity to participate professionally in creating interactive stories for both entertainment and education about human rights and health care. 
Website – http://www.eldervoices.net
Marly Milena (aka Niela Miller) – Niela Miller, M.S.Education/Communications, combines multi-arts processes with humanistic psychology and education.  Her SL group is called Octagon: Creative Exploration. Her professional background is as a Gestalt therapist, educator,  workshop designer & facilitator as well as an organization development consultant and trainer. She is also a composer, visual artist, writer and actor. She uses art processes extensively in everything she does.
Website – www.peoplesystemspotential.com
Ludivo  (aka Eleanor Ide) – brought the Hero Walk to Second Life in 2006. By 2014 it had evolved to its present form. Ludivo turned it over to the very able Tooyaa (Thuja Hynes) who now holds hero meetings every other Tuesday. The main feature of Ludo's real life bio is 25 years in the Hero Walk Black of bipolar disorder. Ludo says, "In the Black one seeks the Pearl of Great Price. I found many pearls."
Flo Betterman – is a BEST avatar used by our staff and guest presenters for the listed presentations and workshops.
Namaara MacMoragh (aka Gloria Kraegel) – Gloria Kraegel brings over 30 years of nonprofit consulting to all aspects of her role as the Brain Energy Support Team Executive Director. She is also the creative force behind the Etopia Sustainable Communities in Second Life (http://etopiaisland.org).