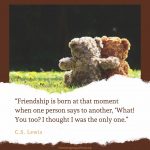 Brain injury support groups are special places that allow people with brain injury and their families to meet others who are in similar situations, gain valuable emotional support from one another, form friendships, obtain information and resources, and hear speakers discuss a variety of brain injury topics.
You know we believe in the power of our community. You know we've helped support groups across Washington State to meet the needs of their group members based on what the group wants. It's always been and continues to be, all about a quality of life we deserve to have and should be able to create for ourselves.
BEST is partnering with the Imaginal Network to bring you a true peer support virtual support group. Sure, we'll mix it up a bit with speakers, presentations, and activities that you'll enjoy, but this is YOUR support group to help you get through the hard times and the good times with friends.
Join us for the next BEST/Imaginal Network Online Virtual Support Group.
At this time we are only accepting participants who are part of the BEST network of Washington State support groups.
** Our PEER Support Group will NOT meet in December 2020. **
Once you've submitted your registration, please, scroll to the top for the submission confirmation message. Thank you.