Find A WA State Support Group
*** Due to COVID-19, Support Group meeting schedules may have changed. ***
WA State Regional Support Group Events Calendars
Support Groups provide a safe place for everyone to share their experiences, learn new skills, and find resources that can help. The map shown below is a visual breakdown of which counties are in each of the regions. The calendar (below the map) is sectioned into the four regions in Washington State so that you can find a support group meeting near you.
Why a calendar and not a list of groups? Many in our community have shared that they think about going to a group "today" along with letting us know that a list is overwhelming. Please contact us if you have questions or need assistance.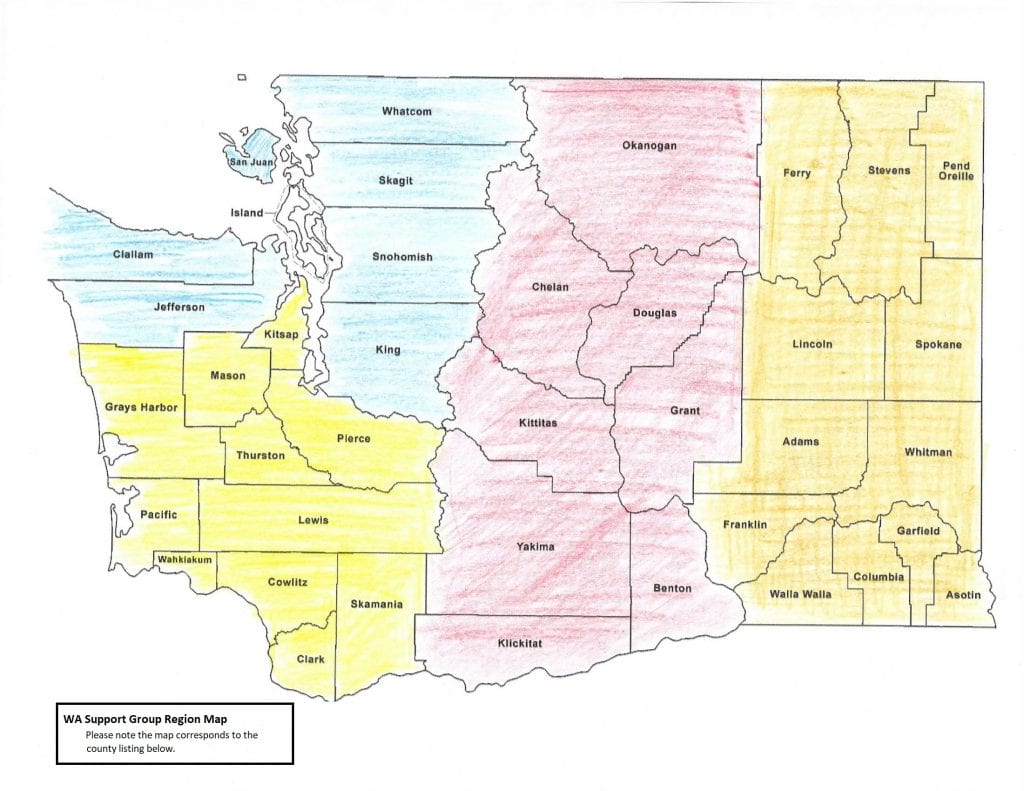 Central WA Region – Counties include Benton, Chelan, Douglas, Grant, Kittatas, Klickitat, Okanogan, and Yakima.
Eastern WA Region – Counties include Adams, Asotin, Columbia, Franklin, Ferry, Garfield, Lincoln, Pend Orelle, Spokane, Stevens, Walla Walla, and Whitman.
Northwest WA Region – Counties include Clallam, Jefferson, King, San Juan, Skagit, Snohomish, and Whatcom.
Southwest WA Region – Counties include Clark, Cowlitz, Grays Harbor, Kitsap, Lewis, Mason, Pacific, Pierce, Skamania, Thurston, and Wahkiakum.
*** Due to COVID-19, Support Group meeting schedules may have changed. ***
PLEASE NOTE – The calendar below remains on our website for contact information only. Please contact the group contact person for details.
Week of Aug 30th
Mon

Monday

Tue

Tuesday

Wed

Wednesday

Thu

Thursday

Fri

Friday

Sat

Saturday

Sun

Sunday

August 30, 2019

August 31, 2019

September 1, 2019

September 2, 2019

1:00 pm: Bellevue Eastside TBI Support Group

Highland Community Center
14224 Bell-Red Road
Bellevue WA  98007

Contact Karen Ljunggren at 425-653-2480

Meeting is held in the large room next to the copy machine.

September 3, 2019

6:30 pm: Edmonds Support Group

Swedish Edmonds Hospital
21601 76th Ave W (Cafeteria 2nd Floor)
Edmonds WA 98026

contact Robin Spicuzza at 425-772-6363

September 4, 2019

6:00 pm: North Olympic Brain Injury Support Group

Olympic Medical Center
939 Caroline Street (Wendell Rm)
Port Angeles WA 98362

contact cherylesullivan@yahoo.com

September 5, 2019

All day: Harborview Support Group

Harborview Medical Center
Maleeng Bldg 1st Floor
325 9th Ave
Seattle WA 98104

contact Joel Laguatan at 206-948-8552 or Michele Kaufman at 206-841-0445
If you have questions about a support group in your area or if you are a WA State TBI Support Group facilitator looking for direct support group funding contact David Minor, the WA State TBI Council and Fund Coordinator, at 1-360-764-0792 or by email at david.minor@dshs.wa.gov.