Find A WA State Support Group
*** Due to COVID-19, Support Group meeting schedules may have changed. ***
WA State Regional Support Group Events Calendars
Support Groups provide a safe place for everyone to share their experiences, learn new skills, and find resources that can help. The map shown below is a visual breakdown of which counties are in each of the regions. The calendar (below the map) is sectioned into the four regions in Washington State so that you can find a support group meeting near you.
Why a calendar and not a list of groups? Many in our community have shared that they think about going to a group "today" along with letting us know that a list is overwhelming. Please contact us if you have questions or need assistance.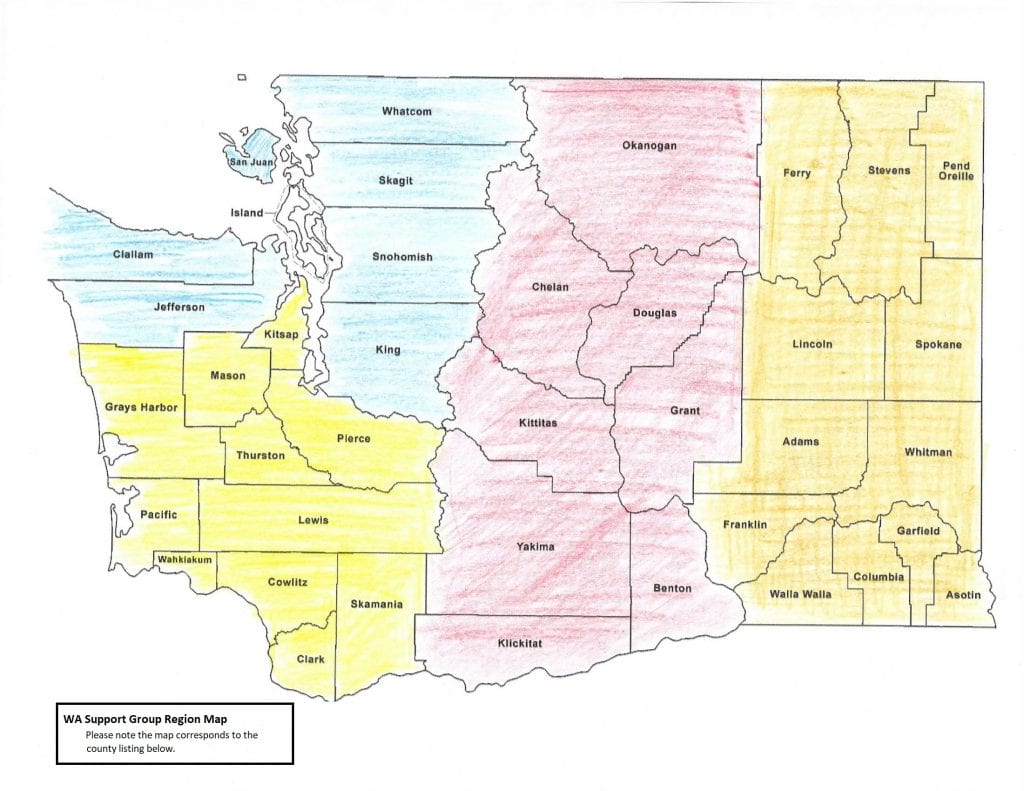 Central WA Region – Counties include Benton, Chelan, Douglas, Grant, Kittatas, Klickitat, Okanogan, and Yakima.
Eastern WA Region – Counties include Adams, Asotin, Columbia, Franklin, Ferry, Garfield, Lincoln, Pend Orelle, Spokane, Stevens, Walla Walla, and Whitman.
Northwest WA Region – Counties include Clallam, Jefferson, King, San Juan, Skagit, Snohomish, and Whatcom.
Southwest WA Region – Counties include Clark, Cowlitz, Grays Harbor, Kitsap, Lewis, Mason, Pacific, Pierce, Skamania, Thurston, and Wahkiakum.
*** Due to COVID-19, Support Group meeting schedules may have changed. ***
PLEASE NOTE – The calendar below remains on our website for contact information only. Please contact the group contact person for details.
Week of Sep 23rd
Mon

Monday

Tue

Tuesday

Wed

Wednesday

Thu

Thursday

Fri

Friday

Sat

Saturday

Sun

Sunday

September 23, 2019

6:30 pm: Brain Injury Community Support Group

Support groups are a great resource for people to find help to maintain control over their lives, to give and take the wisdom and experience that comes from living with a brain injury. Our group focuses on providing peer support to those that need help moving on from their brain injury through friendship and mentorship. We also offer a program through the Brain Energy Support Team called Identity & Moving On After Brain Injury. This is an evidence-based curriculum that focuses on helping individuals move forward in their lives after brain injury.

For more information contact Marysa at 877-719-2378 x115

September 24, 2019

September 25, 2019

2:00 pm: Seattle Craft Group

Good Sheppard Center
4649 Sunnyside N (Rm 221)
Seattle WA  98103

contact Janet Novinger at janet@explorationsconsulting.com

6:30 pm: Spokane Survivor's Group

St Lukes Rehabilitation Institute
711 S Cowley Street (Rm 200)
Spokane WA 99202

contact Kristina Anderson at andersonkristina03@gmail.com

September 26, 2019

1:00 pm: Swedish-Cherry Hill Support Group

Swedish Medical Center
Cherry Hill Campus - East Tower Dining Room
500 17th Ave
Seattle WA  98122

contact Joel Laguatan at 206-948-8552 or Michele Kaufman at 206-841-0445

September 27, 2019

September 28, 2019

September 29, 2019
If you have questions about a support group in your area or if you are a WA State TBI Support Group facilitator looking for direct support group funding contact David Minor, the WA State TBI Council and Fund Coordinator, at 1-360-764-0792 or by email at david.minor@dshs.wa.gov.