Find A WA State Support Group
*** Due to COVID-19, Support Group meeting schedules may have changed. ***
WA State Regional Support Group Events Calendars
Support Groups provide a safe place for everyone to share their experiences, learn new skills, and find resources that can help. The map shown below is a visual breakdown of which counties are in each of the regions. The calendar (below the map) is sectioned into the four regions in Washington State so that you can find a support group meeting near you.
Why a calendar and not a list of groups? Many in our community have shared that they think about going to a group "today" along with letting us know that a list is overwhelming. Please contact us if you have questions or need assistance.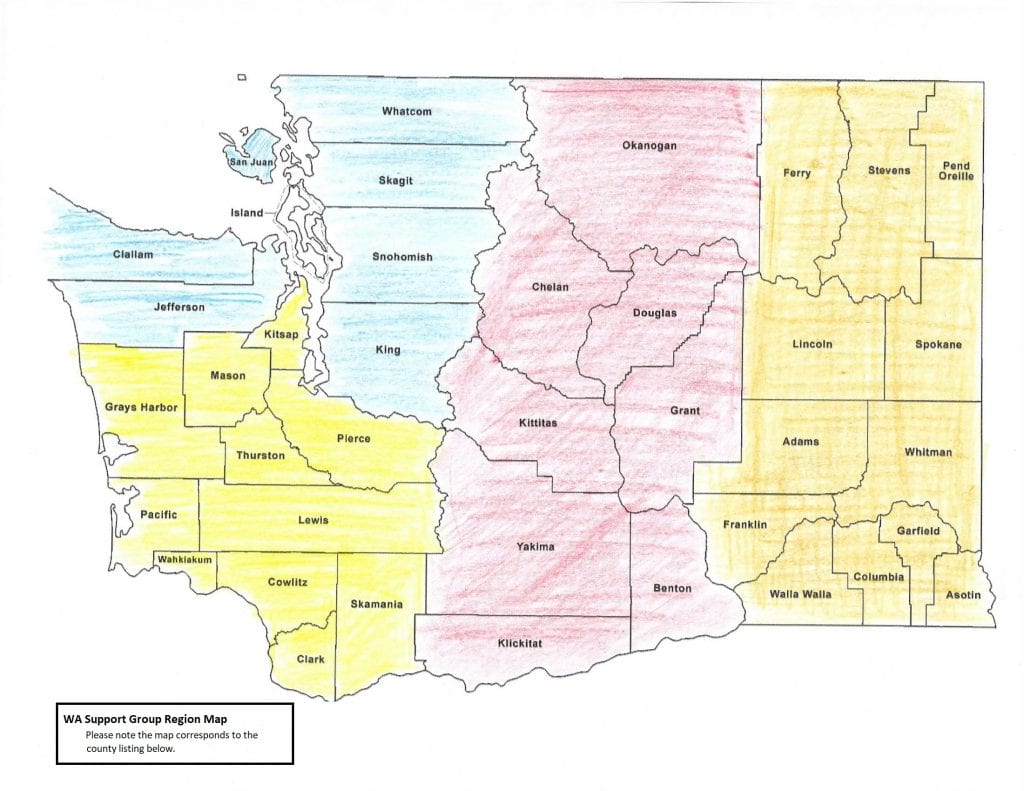 Central WA Region – Counties include Benton, Chelan, Douglas, Grant, Kittatas, Klickitat, Okanogan, and Yakima.
Eastern WA Region – Counties include Adams, Asotin, Columbia, Franklin, Ferry, Garfield, Lincoln, Pend Orelle, Spokane, Stevens, Walla Walla, and Whitman.
Northwest WA Region – Counties include Clallam, Jefferson, King, San Juan, Skagit, Snohomish, and Whatcom.
Southwest WA Region – Counties include Clark, Cowlitz, Grays Harbor, Kitsap, Lewis, Mason, Pacific, Pierce, Skamania, Thurston, and Wahkiakum.
*** Due to COVID-19, Support Group meeting schedules may have changed. ***
PLEASE NOTE – The calendar below remains on our website for contact information only. Please contact the group contact person for details.
October 2019
Mon

Monday

Tue

Tuesday

Wed

Wednesday

Thu

Thursday

Fri

Friday

Sat

Saturday

Sun

Sunday

September 30, 2019

October 1, 2019

October 2, 2019

October 3, 2019

October 4, 2019

October 5, 2019

8:00 am: Brainstorm Rehab Support Group

Tour & Picnic at Pegasus Project --  Saturday, October 5th. We will meet at there at 4680 Highway 12 in Yakima. This will include a tour in the morning to experience the working ranch, then we will break for lunch. Everything is provided. Please RSVP so we know who to expect.

Contact Bethany Davis, M A, CCC-SLP, CBIS at 509-833-1983 (text and/ or call) or email brainstormrehab@hotmail.com

October 6, 2019

October 7, 2019

October 8, 2019

October 9, 2019

October 10, 2019

October 11, 2019

October 12, 2019

October 13, 2019

October 14, 2019

October 15, 2019

October 16, 2019

October 17, 2019

October 18, 2019

October 19, 2019

October 20, 2019

October 21, 2019

11:30 am: Moses Lake Support Group

Big Bend Community College
Atec Bldg
7762 Chanute Street NE
Moses Lake WA 98837

contact Jennifer McCarthy at 509-766-1907

October 22, 2019

October 23, 2019

October 24, 2019

October 25, 2019

October 26, 2019

October 27, 2019

October 28, 2019

4:00 pm: Wenatchee Stroke & Brain Injury Support Group

Confluence Health Sleep Spine Clinic
Conference Room
1000 N Miller Street
Wenatchee WA  98801

contact Sophie Gresh at sophie.gresh@confluencehealth.org

October 29, 2019

October 30, 2019

October 31, 2019

November 1, 2019

1:30 pm: Brainstorm Rehab Support Group

Center For Counseling & Psychotherapy, LLC

1015 South 40th Ave, Suite 23

This is a support group f or any individual who has an acquired brain injury or neurological condition. Families and caregivers are welcome to join any event.

All groups are facilitated by Bethany Davis, Speech Language Pathologist and Certified Brain Injury Specialist, who has over 20 years of working in brain injury rehabilitation.

There is no cost for any event or activity, but please RSVP so we can plan accordingly.

Group meetings held at : The Center For Counseling & Psychotherapy, LLC,  1015 S 40t h Ave. Suit e 23, Yakima, WA

Contact Bethany Davis, M A, CCC-SLP, CBIS at 509-833-1983 (text and/ or call) brainstormrehab@hotmail.com

November 2, 2019

November 3, 2019
If you have questions about a support group in your area or if you are a WA State TBI Support Group facilitator looking for direct support group funding contact David Minor, the WA State TBI Council and Fund Coordinator, at 1-360-764-0792 or by email at david.minor@dshs.wa.gov.