Find A WA State Support Group
*** Due to COVID-19, Support Group meeting schedules may have changed. ***
WA State Regional Support Group Events Calendars
Support Groups provide a safe place for everyone to share their experiences, learn new skills, and find resources that can help. The map shown below is a visual breakdown of which counties are in each of the regions. The calendar (below the map) is sectioned into the four regions in Washington State so that you can find a support group meeting near you.
Why a calendar and not a list of groups? Many in our community have shared that they think about going to a group "today" along with letting us know that a list is overwhelming. Please contact us if you have questions or need assistance.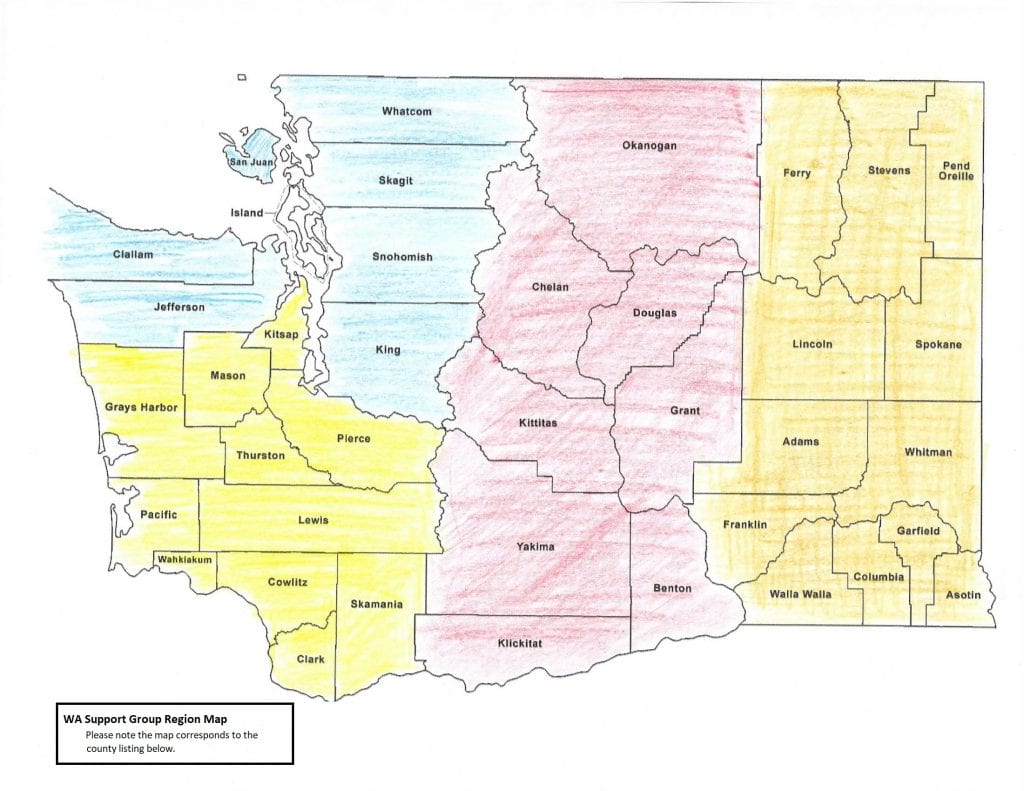 Central WA Region – Counties include Benton, Chelan, Douglas, Grant, Kittatas, Klickitat, Okanogan, and Yakima.
Eastern WA Region – Counties include Adams, Asotin, Columbia, Franklin, Ferry, Garfield, Lincoln, Pend Orelle, Spokane, Stevens, Walla Walla, and Whitman.
Northwest WA Region – Counties include Clallam, Jefferson, King, San Juan, Skagit, Snohomish, and Whatcom.
Southwest WA Region – Counties include Clark, Cowlitz, Grays Harbor, Kitsap, Lewis, Mason, Pacific, Pierce, Skamania, Thurston, and Wahkiakum.
*** Due to COVID-19, Support Group meeting schedules may have changed. ***
PLEASE NOTE – The calendar below remains on our website for contact information only. Please contact the group contact person for details.
Week of Jan 27th
Pullman TBI Support Group

Pullman TBI Support Group

Pullman Regional Hospital

Please join us the 4th Monday of every month to find out more about life with a TBI. Receive support, share your experiences and hear from others, enjoy events and activities, learn about the latest trends and newest information, and get involved with the community.

Location - Pullman Regional Hospital, Conference Room C, 835 SE Bishop Blvd., Pullman, WA

Contact - Diana at Palouse.TBI.Network@gmail.com

Brain Injury Community Support Group

Brain Injury Community Support Group

Support groups are a great resource for people to find help to maintain control over their lives, to give and take the wisdom and experience that comes from living with a brain injury. Our group focuses on providing peer support to those that need help moving on from their brain injury through friendship and mentorship. We also offer a program through the Brain Energy Support Team called Identity & Moving On After Brain Injury. This is an evidence-based curriculum that focuses on helping individuals move forward in their lives after brain injury.

For more information contact Marysa at 877-719-2378 x115
If you have questions about a support group in your area or if you are a WA State TBI Support Group facilitator looking for direct support group funding contact David Minor, the WA State TBI Council and Fund Coordinator, at 1-360-764-0792 or by email at david.minor@dshs.wa.gov.