Find A WA State Support Group
*** Due to COVID-19, Support Group meeting schedules may have changed. ***
WA State Regional Support Group Events Calendars
Support Groups provide a safe place for everyone to share their experiences, learn new skills, and find resources that can help. The map shown below is a visual breakdown of which counties are in each of the regions. The calendar (below the map) is sectioned into the four regions in Washington State so that you can find a support group meeting near you.
Why a calendar and not a list of groups? Many in our community have shared that they think about going to a group "today" along with letting us know that a list is overwhelming. Please contact us if you have questions or need assistance.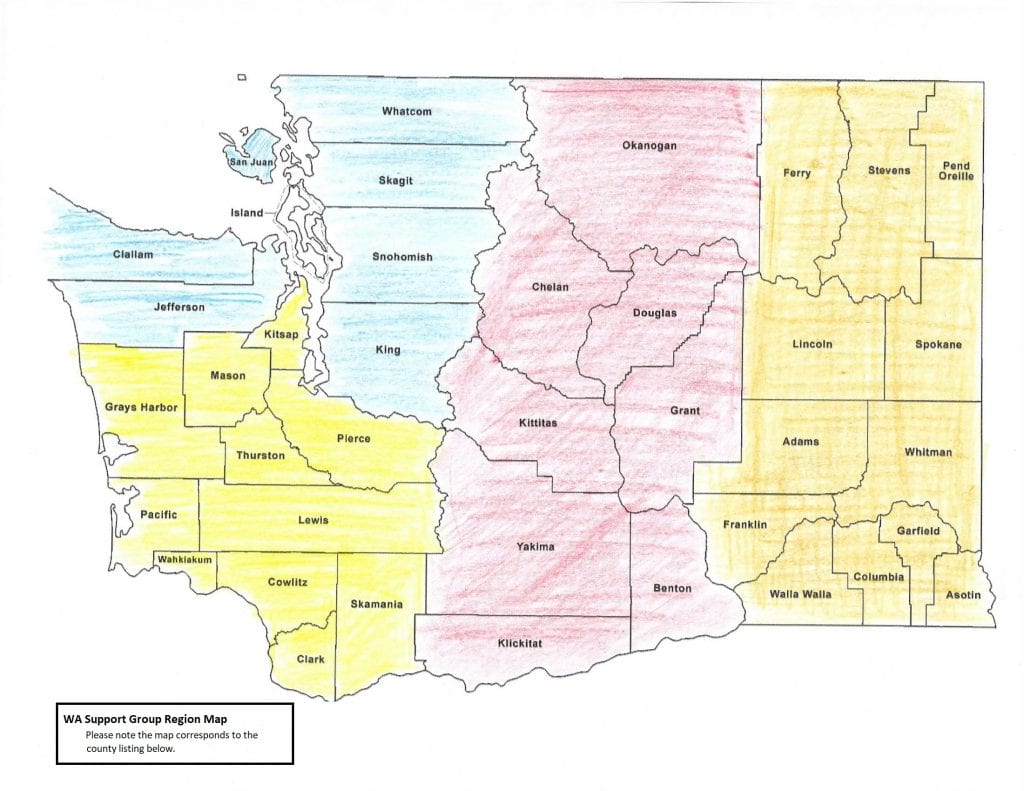 Central WA Region – Counties include Benton, Chelan, Douglas, Grant, Kittatas, Klickitat, Okanogan, and Yakima.
Eastern WA Region – Counties include Adams, Asotin, Columbia, Franklin, Ferry, Garfield, Lincoln, Pend Orelle, Spokane, Stevens, Walla Walla, and Whitman.
Northwest WA Region – Counties include Clallam, Jefferson, King, San Juan, Skagit, Snohomish, and Whatcom.
Southwest WA Region – Counties include Clark, Cowlitz, Grays Harbor, Kitsap, Lewis, Mason, Pacific, Pierce, Skamania, Thurston, and Wahkiakum.
*** Due to COVID-19, Support Group meeting schedules may have changed. ***
PLEASE NOTE – The calendar below remains on our website for contact information only. Please contact the group contact person for details.
Week of Jun 8th
Mon

Monday

Tue

Tuesday

Wed

Wednesday

Thu

Thursday

Fri

Friday

Sat

Saturday

Sun

Sunday

June 8, 2020

June 9, 2020

June 10, 2020

June 11, 2020

2:00 pm: Vancouver Support Group

Legacy Salmon Creek Medical Center
2211 NE 139th St (3rd Fl Conference Rm A)
Vancouver WA 98686

contact Carla-Jo Whitson at 360-991-4928

3:00 pm: Silverdale Brain Injury Support Group

Harlow Medical Center
1780 NW Myhre Road, Iris Room
Silverdale WA  98383

2nd Thursday of each month 3:00-4:30

For more information contact Janice Worman OTR/L 360-744-8980

6:00 pm: Tacoma Brain Injury Support Group

Tacoma Area Coalition of Individuals with Disabilities (TACID)

Facilitator - Jeff Hartson (877-719-2378)

Our brain injury support group exists to allow people with brain injury and their family members to meet others who are in similar situations, gain valuable emotional support from one another, form friendships, obtain information and resources, and hear speakers discuss a variety of brain injury topics. They are opportunities for both people with brain injury and their family members to discuss the difficulties and hardships they are facing, as well as the accomplishments and joys in their life. Many individuals avoid support groups because they feel that they are only complaint sessions that focus on the negative aspects of life after brain injury, but this is not the case. Support groups can be an opportunity for individuals to support and encourage one another, not only through the rough times but also through the good times. We look forward to seeing you!

June 12, 2020

June 13, 2020

June 14, 2020
If you have questions about a support group in your area or if you are a WA State TBI Support Group facilitator looking for direct support group funding contact David Minor, the WA State TBI Council and Fund Coordinator, at 1-360-764-0792 or by email at david.minor@dshs.wa.gov.