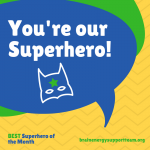 The Brain Energy Support Team (BEST) is honored to announce our BEST Superhero of the Month for September 2018.
Congratulations to Melody Paz, a superhero mom and survivor.
Known for her inspiring spirit and perseverance, Melody approaches her journey forward with positive energy while also supporting her family and fellow superheroes.
Here's what her nominator had to say about Melody:
She is a multiple brain tumor survivor; one being found somehow at the time of her youngest son's birth. She went home with an infant in this state. 
Melody rides the bus to our meetings in weather most of us whine about. She has a spirit that builds you up.
Many thanks to Melody for all that she does for herself, her family and for fellow superheroes!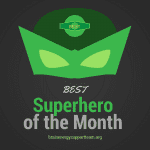 Know a special real-life superhero in the brain injury community? We'd love to hear about them. Click here to learn more and nominate someone today!