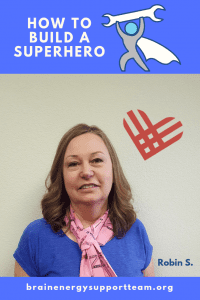 Robin Spicuzza had these roles in life: an energetic and loving mom, businesswomen, investor, web expert, and volunteer.
A car accident in 2011 changed those roles significantly.
Robin sustained a traumatic brain injury (TBI); worse, it wasn't diagnosed right away.
Faced with the challenges that came with an undiagnosed TBI, she struggled to find support, services and resources to help her move forward and manage her injury.
Robin found herself on a frustrating and exhausting physical, emotional and mental journey forward.
Robin's road to becoming a superhero was formed in 2013, when she discovered one of the Brain Energy Support Team (BEST) local brain injury support groups in Washington State.  Through the group, she learned how to acknowledge and accept her brain injury.
For Robin, positivity and healing came in the form of other fellow superheroes in the brain injury community who shared some super-powered tools.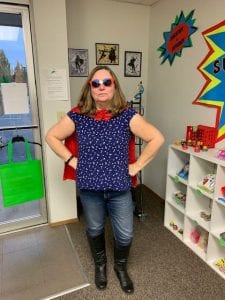 Together, both things helped her find new superpowers and rebuild her life.
Robin summed it up this way: "It's pretty simple: when all the systems and services that are in place to help with brain injury failed, BEST was, and is, the only place where I found hope, recovery, friendship and family."
Only three months after being in the support group, she became the support group co-facilitator. Robin also participated in BEST's Identity and Moving On After Brain Injury program that provided a guided process to help create a plan for the future and gather more tools and strategies to carry out that plan.
"Moving On gave me hope," says Robin. "In addition to the support group, I went to Our BEST Space, and that gave me a community, support, belonging and acceptance."
Fast forward to today.
Robin has served as the Program Manager for BEST since 2015 and manages the BEST Superhero Shoppe in Our BEST Space, a fun superhero-themed store featuring superhero accessories, specialty gifts and much more.
Proceeds from the Superhero Shoppe benefit brain injury survivors and their families in Washington State.
Robin also remains the co-facilitator of the Edmonds Brain Injury Support Group and serves a BEST Support Group Coach.
She was also honored as a BEST Superhero of the Month in 2017.
Robin is one of BEST's biggest supporters for Giving Tuesday. This year's theme, Building Superheroes, resonates with her personally.
"If I can help others become a superhero to themselves, then I couldn't be happier!"
Do you want join Robin and the rest of the superhero team and build superheroes, too?
Here's your chance!
Join us on Giving Tuesday, the international day of giving back, Tuesday, November 27, 2018 and share your monetary gift with BEST (any amount helps). Our goal is noted below.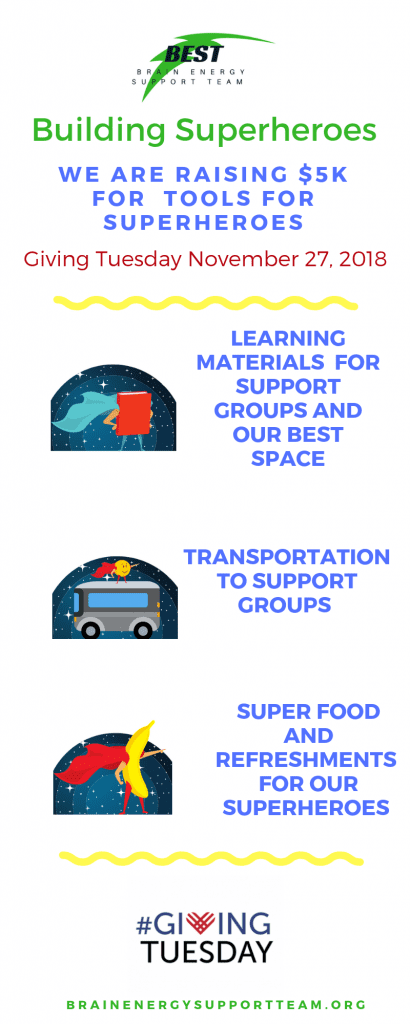 Want to offer a gift today? Fantastic! Click here to get started (it's fast, easy and secure). Superpower your gift by becoming a BESTie with a membership by clicking here.
In the Puget Sound area? Join us on November 27, 2018 from 10 am to 4 pm at Our BEST Space and the Superhero Shoppe in University Place, WA, for a special celebration with light refreshments available. Donate at the Space and receive a special handcrafted, Building Superheroes, magnet courtesy of Heartfelt Tidbits of Creativity ((while supplies last).
Thank you for your support today and every day!