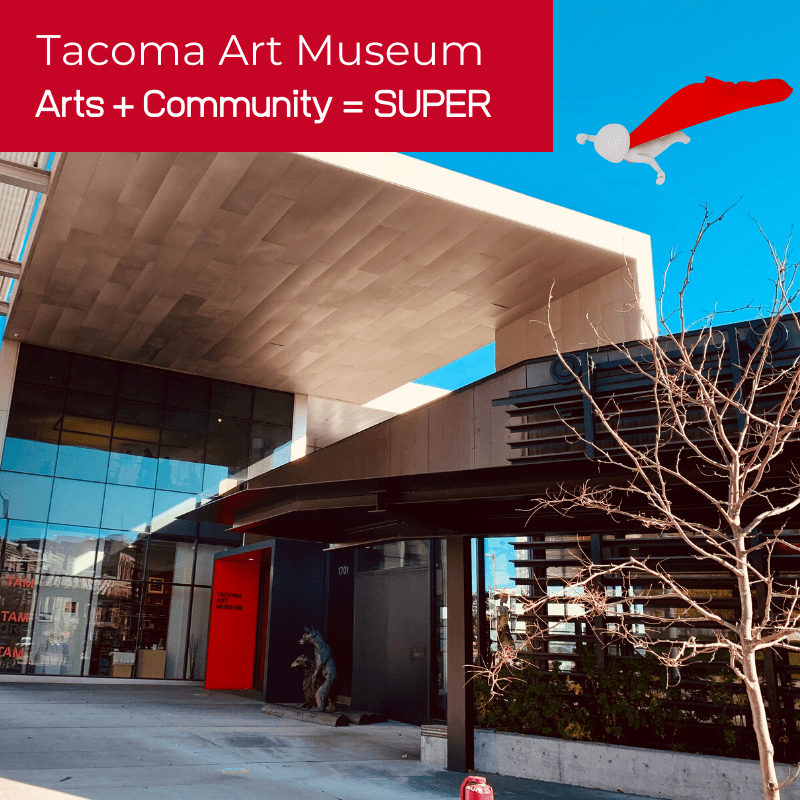 The equation is simple, but powerful. 
Arts + Community = SUPER. 
At the beautiful and iconic Tacoma Art Museum (TAM) , this museum is indeed super.
For well over 80 years, the museum has been connecting people and communities with art, with rich and engaging installations, programming, events and education.  
That's why the Brain Energy Support Team (BEST) was deeply honored to be selected by the museum as one of the community art installations for 2019. Our artwork will be displayed in Tacoma Art Museum's TAM Local: Community Art Space for the Superhero show from October 16, 2019 to December 26, 2019. 
BEST and TAM recently celebrated the artists of the BEST and the local brain injury community on October 17, 2019, in a special reception for the Superhero show opened to the general public. A wonderful and memorable was evening had by all. TAM was the perfect host for this inspiring event. 
That's why BEST is pleased and delighted to announce that TAM has been named our BEST Superhero of the Month for October 2019. 
The nomination tells the story of this real-life community superhero: 
The Tacoma Art Museum (TAM) has been a real-life superhero of support, encouragement, kindness and creativity for the TAM Local: Superhero show and to the Brain Energy Support Team (BEST), BEST artists, and the Washington State brain injury community at large.
TAM was extraordinary in their generosity and enthusiasm for this project. An absolute dream to work with and partner with, TAM outlined, in perfect detail, every step and process to make our art installation come to life for the our community and the general public to enjoy, savor and learn from.
This show is an amazing gift to the BEST artists and their families, and the entire brain injury community.
Thank you, TAM for being positively SUPER. And special thanks to TAM's Amelia Layton, who was an incredible supporter and project manager for the show. She was always available for our questions and concerns and make the whole process easy and enjoyable! 
Thank you, TAM, for all you do for our community and helping us soar like superheroes!
You are the BEST. 
So, who will the next superhero of the month be? 
Do you know a survivor, caregiver or community supporter who is putting the power in personal empowerment? Soaring to new heights? Doing cool things?  Bringing superhero-size support to the brain injury community?
Nominate your superhero for the BEST Superhero of the Month for some superhero team recognition.
Click here to learn more.