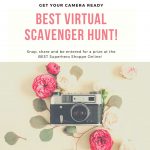 Get your cameras ready! 
BEST launched our first ever scavenger hunt for our Instagram and Facebook communities! 
BUT this is no ordinary scavenger hunt.
It's virtual, easy to do, AND there's a prize involved! 
Check out the article below for the guidelines and rules. Have fun! 
The BEST Virtual Scavenger Hunt will be held for three consecutive weeks beginning Wednesday, July 29, 2020 beginning at 9 AM PST.
All are welcome to join in the fun! 
Here's how it works: 
For three Wednesdays in a row, beginning on Wednesday, July 29, 2020, we'll post your scavenger hunt assignment on our Instagram and Facebook page at 9 AM PST.  
Capture a picture of assigned item and share it in comments on Facebook on the Wednesday scavenger hunt post (for Instagram, message us on the app with your photo). Feel free to add a caption or comment(s) to your photo, if you wish. It's not required though. You are also welcomed to go back to previous weeks and add an entry! 
 Once you add your photo in comments, you will be entered for a random drawing for a prize from our BEST Superhero Shoppe Online! The drawing will held on Friday, August 14, 2020.The winner will be announced on a special post on the BEST Instagram and Facebook pages.
That's all there is to it! 
Just a few rules though: 
Have fun and be creative! 
Original photography only. 
 You are allowed to enter no more than one photograph per week for the requested object. Photographers who choose to enter more than one, will only be allowed one total entry for that week into the drawing. 
You can earn up to three entries for the drawing (one per week). 
While we welcome creativity, please only submit photos of the requested item or theme. We will not accept any photos that are deemed offensive, inappropriate, or have political content. BEST reserves the right to remove photos and/or comments that don't follow the rules.  
The winner of the random drawing on Friday, August 14, 2020 will be announced and tagged on our announcement post and will be contacted by the BEST Communications Manager via their Instagram or Facebook account with instructions on how to redeem their prize in the BEST Superhero Shoppe Online. 
Questions? Contact the BEST Communications Manager, Kim T. at kimt@brainenergysupportteam.org. 
That's it! 
We are so looking forward to seeing your scavenger hunt finds! 
Until then, BEST wishes and have fun!