The Brain Injury Support Team (BEST) believes all TBI survivors along with their families and caregivers are ALL heroes.
In honor of Brain Injury Awareness Month, BEST is going to highlight some of these very heroes and their real life stories of courage, perseverance and hope.
Today, we take a look at Grace Meno, a high school student from Arlington, Washington. Meno was recently featured in "The Arlington Times" newspaper for her brain injury advocacy. The young woman was injured with a severe concussion due to fall during her high school volleyball practice in 2012. It was a tough recovery road for Meno. While Meno physically recovered, she still struggles with mental, emotional and cognitive issues.
Due to Meno's experience, the teen was eager to create more awareness about concussions and brain injury. She began to sell concussion awareness wristbands ("Head's Up!") with 100% of the proceeds going to the Brain Injury Association of America. Meno has been successful in her efforts and is eager to reach her fundraising goals.
To learn more about Meno, her fundraiser, how to get your own wristband, and read a beautiful piece about her beloved service dog, Abby, visit Meno's fundraising page HERE.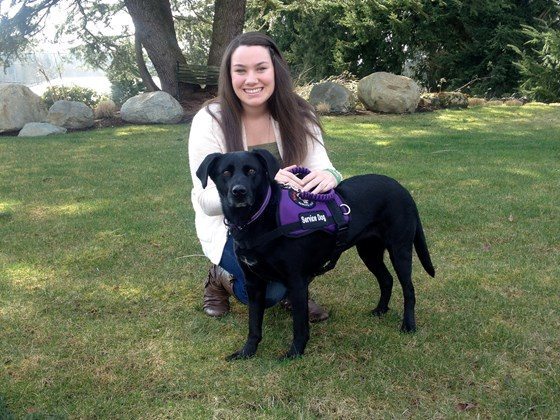 Meno and her service dog, Abby (Photo from Meno's fundraising page)