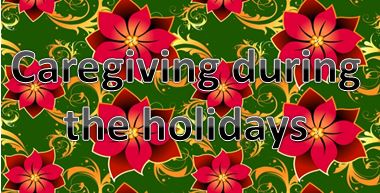 Attention caregivers! It's that time again!
Each Tuesday throughout the holiday season, the Brain Energy Support Team (BEST) will be posting two practical, helpful and/or inspirational tips on how to manage through the holidays as a caregiver. Please feel free to use this forum to share your own tips and strategies, too. We would love to hear from you!
Here are today's tips (adapted from Stress and the Holidays: Coping Strategies to Keep You Sane  by Helen Hunter, ACSW, CMSW).
Tip #1 If you cannot be with family, try to spend time with friends or neighbors instead.
Tip #2  Get involved with an activity. Volunteer at a local senior center, church or community center that serves meals on the holiday or give your services to a hospital. If you know that someone will be alone and cannot get out for the holiday, visit. If the person lives far away and you cannot physically visit, make a phone call. In helping those who are less fortunate than yourself, you can forget some of your own troubles.