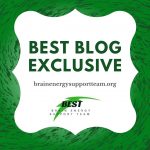 At the Brain Energy Support Team (BEST), 2014 was an amazing year and 2015 proves to be just as exciting (if not even more so)! Here's a special message from BEST Executive Director, Gloria Kraegel to kick off 2015.
Our BEST Year!
by Gloria Kraegel, BEST Executive Director
Happy New Year!
So many terrific things happened in 2014, we would need volumes to share it all with you. From crafting classes and small business workshops to hosting a reception for University Place business leaders and dignitaries, we did it all.
And 2015 is going to be even more exciting.
Our BEST Space engaged volunteers and project participants in learning new skills and discovering new talents. Some, like Jay, were able to blow the dust off of old dreams and move ahead to create new personal opportunities. Entrepreneurs, like Diane, were able to create the road map necessary to drive her card-making business forward to new levels of success. In 2014, we saw how the right environment, support and education can change lives.
The BEST Learning Center hosted classes such as Living Well with Chronic Conditions, Small Business Development and Rebuilding Identity After Brain Injury. In 2014, we launched our WII Mean Business®; a fun way to learn something new and be with friends. From support groups to workshops, participants engaged in dialogue, peer support and best practices to gain the skills and learn the lessons they needed in an accommodating and supportive setting.
In 2014, we also saw support groups across Washington State become more focused to respond to the needs of their members. Smaller groups evolved, such as the Entrepreneurs Group in Seattle, Professionals with TBI in Tacoma and Moving On groups in colleges in Spokane and Olympia. BEST also helped the facilitators in Edmonds and in Grays Harbor to partner with foundations in their communities to get additional funds to do more activities that positively impact the lives of their group members and raise awareness in their communities. We will continue to work with facilitators across the state to keep the momentum they have created going.
From our founding in 2007, we have strongly believed that the combination of environment, support and education helps to build strong, self-directed and more meaningful lives for individuals with brain injury and their families. Based on this belief, in 2011, we began building Project PEER. Throughout 2014, we saw how vital the combination of our key ingredients and mentoring helps redefine identity and creates new opportunities.
In 2015, Project PEER takes the next step in mentoring and education. We have six trained Empowerment Coaches to provide excellent one on one support and guidance to Empowered Self participants. Many of you may also know that BEST has worked closely with HeadStrong For Life and their mentor training program. In 2015, BEST and HeadStrong will partner to provide the most comprehensive mentorship program of its kind. We are excited to work with HeadStrong to provide support and education to adults and youth with brain injury, their families and professionals in a safe, accommodating environment.
Whether you're interested in attending a support group, enjoying Monday Movies, learning new skills, crafting or quilting, we invite you to join us for our next BEST year.