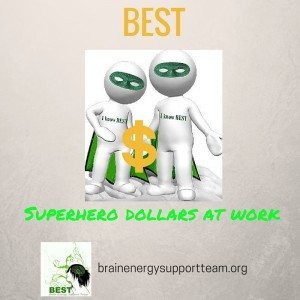 Ready to change some real dollars into superhero currency this summer?  You CAN while supporting the mission, vision and programs at BEST with your shopping dollars. Ready to shop now for mom, dads and grads? How about some birthday gifts or a little something special just for you? Here are three quick, easy and terrific ways you can help.
Brave.
It's one of the words that we can associate with superheroes, isn't it?
So, in the spirit of being brave, BEST is partnering with Bravelets, a cause jewelry company, that has created a jewelry line depicting the symbols of hope, strength and courage in tough times. Bravelets also has a passion of giving back to the community. The company sponsors nonprofit online fundraisers and $10 for each item purchased from a nonprofit's brave page is donated back to the nonprofit.
BEST has just recently launched our very own superhero brave page !  Click on the link to check it out! A wide variety of items from bracelets to necklaces to scarves are available for online purchase (including some items that come in BEST signature green).  Your purchase will help support the mission, vision and programs of BEST.

Here's a little something to smile about! Like to shop through amazon.com? Well, check this out!
Amazon donates 0.5% of the price of your eligible AmazonSmile purchases to the charitable organization of your choice.
AmazonSmile is the same Amazon you know. Same products, same prices, same service.
Support your charitable organization by starting your shopping at smile.amazon.com.
The Brain Energy Support Team (BEST) is registered with this charitable giving program! Put your shopping dollars to good use for a great cause.
Click HERE to learn more and get started today!

Attention all Fred Meyer shoppers! Put your store shopping dollars to good use and help the Brain Energy Support Team (BEST) every time you shop!  As a Fred Meyer customer, you can link your Rewards Card to your favorite nonprofit.  Called the Community Rewards program, each time you use our card you can help your nonprofit earn a donation from Fred Meyer. The organization donates about $2.5 million each year to local school, community groups and nonprofits.
BEST is pleased to report that we are now added to the Community Rewards database! Linking your Rewards card to BEST is quick, easy and simply a click away. Click HERE to get started and learn more.
Be sure to spread the word and happy shopping!