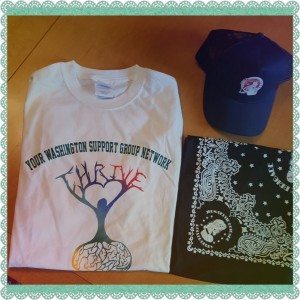 Reminder:  Join us July 7, 2016 on the BEST Facebook page for the next BEST Summer 2016 giveaway! We are not just giving away one item, but three (see above photo). Perfect for summer, enjoy a cool t-shirt (adult unisex size large) that shows your support group spirit, along with some cute gear (a Betties snap back cap and bandana) from our BEST friends, the JBLM Bettie Brigade!
Entering is easy. Read below for details!
Sharing is caring! And in the spirit of sharing and making this summer the very BEST, the Brain Energy Support Team is gearing up to kick off the first of our 2016 summer monthly giveaways on the BEST Facebook Page!
Join us June 1st, July 7th and August 1st for your chance to win a fun gift(s) from your BEST friends.
Entering is simple.
"Like" us on the BEST Facebook page.
 When you see our special giveaway post on June 1st, July 7th and August 1st of 2016, simply "like" that post and you are entered into a drawing for the gift shown. Gift winners will be selected by random drawing and the announcement will be posted the following day on the BEST Facebook page.
It's that easy!
Added bonus: by liking our Facebook page, you'll be joining other BEST superheroes and their families in conversation, sharing news and links you can use and much more all year round.
Giveaway rules:
These summer gift giveaways will be found exclusively on the BEST Facebook page.
These giveaways are in no way sponsored, endorsed or administered by, or associated with, Facebook.
Any questions, comments or complaints regarding the promotion will be directed to Sponsor (Brain Energy Support Team), not Facebook.
Those who wish to participate will be asked to LIKE the post to be entered. Winner will be selected by random drawing and will be announced on the BEST Facebook page on June 2, July 8 and August 2, 2016.
Winner will be asked to provide shipping information in a private message to BEST (instructions will be included in the announcement post). Winner's contact information will remain private and will not be shared or used for any other purpose than to ship the gift. BEST will ship gifts within 24 hours of receiving the winner's shipping information and will ship by standard, first-class mail through the U.S. Postal Service within the continental United States. The giveaway is open to all adults over the age of 18 and live within the continental United States.
Happy  Summer from your BEST Friends!