Health and self-care is important to us.
That's why we are thrilled to share some fabulous, healthy and fun goodies with our BEST friends and supporters for our BEST Facebook Giveaway for August 2017.
Beginning Wednesday, August 16, 2017 at 10 a.m. PST, BEST will have a treasure trove of great items to that give you some terrific tools for health and self-care.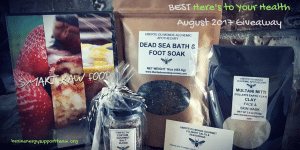 Here's what's inside our gift package:
Learn about whole food plant-based nutrition (no cooking required!) in this comprehensive instructional DVD from writer, food expert, horticulturist, educator and BEST's own Mia Dalene Marcum-McCoy. Learn about time saving techniques, tasty and healthy recipes (including a recipe e-book) and other great tips.
Libertine Tacoma/Liberte Du Monde Gourmet Culinary Salts and Seasonings and Alchemic Apothecary 
Longtime BEST friend, Libertine Tacoma/Liberte Due Monde Gourmet, is sharing THREE terrific items with us.
"Trifecta" Custom Gourmet Salt Blend:  A custom blend of three potentially health beneficial sea salts. "Trifecta" combines Red Hawaiian Sea Salt which contains trace minerals and iron oxide rich red baked clay, Black Hawaiian Sea Salt which contains activated charcoal and trace minerals and last but not least Himalayan Pink Salt which contains 84 trace minerals.  See the photo above. Click on the link for ingredients and other details.
Multani Mitti (Fuller's Earth Clay) Clay Face and Skin Mask: Multani Mitti Clay is a very fine powder that has volcanic origins. It is highly absorbent. Great for acne prone or oily skin, it also reduces pores and fades freckles and skin discolorations. Also great for sore muscles. Learn more about Libertine masks by clicking the link above. Product is shown in photo above.
Dead Sea Bath & Foot Soak: Dead Sea Soak by Liberte Du Monde Alchemic Apothecary is a blend of three pure ingredients to potentially help your body detox, relieve swelling and minor aches and pains. It contains pure Dead Sea Clay, premium Dead Sea Salt & Epsom Salt. Loads of natural minerals such as magnesium & calcium as well as an array of trace minerals. Click on the link to learn more about this product. See product in photo shown above.
Entering to win these BEST gifts is easy.
When you see our special Facebook post about the giveaway on the BEST Facebook page on Wednesday, August 16, 2017, beginning at 10 a.m. PST, simply like that post and you are entered into the drawing for the gifts explained and shown above.  The winner will be selected by random drawing on Thursday, August 17, 2017 at 4 p.m. PST and the announcement will be posted shortly thereafter (4:05 p.m. PST) on the BEST Facebook page. Good luck!
Added bonus: Want to like us on Facebook while you are stopping by to enter? We'd love it! By liking our Facebook page, you'll be joining other BEST superheroes and their families in conversation, sharing news and links you can use and much more all year round.
Our BEST thanks to Mia Dalene Marcum-McCoy and Libertine Tacoma/Liberte Du Monde!
Please read: following are some important giveaway terms, conditions and eligibility requirements.
The BEST "Here's to your Health" August 2017 Facebook Giveaway will be found exclusively on the BEST Facebook page.
These giveaways are in no way sponsored, endorsed or administered by, or associated with, Facebook.
Any questions, comments or complaints regarding the promotion will be directed to Sponsor (Brain Energy Support Team), not Facebook.
The giveaway is open to all adults over the age of 18 and who reside in the continental United States.
Those who wish to participate will be asked to LIKE the post to be entered during the entry period of August 16, 2017, 10 a.m. PST to August 17, 2017 3:55 p.m. PST. Winner will be selected by random drawing and will be announced on the BEST Facebook page on August 17, 2017 by 4:05 p.m. PST.
Winner will be asked to supply mailing address to the Brain Energy Support Team (BEST) via private message (contact instructions will be noted on the winner's announcement post). Winner's contact information will remain private and will not be shared or used for any other purpose than to arrange for the shipping of the gift package.
Gift package will be mailed within three business days upon receipt of the winner's mailing address. Gift package will be shipped by standard mail through the United States Postal Service.
Instructions and recommended uses for all Libertine Tacoma/Liberte Du Monde Gourmet products in this giveaway are noted on the product packaging. Please review this information prior to use. For more information on each product, visit their website by clicking here.