Most people's lives are more satisfying when they have a clear picture of what they want for themselves. When people develop a mental image of how to achieve their goals, their sense of hope is strengthened. We use a process that helps individuals create a mental map that illustrates what is likely to be helpful and what may be barriers to creating a better future.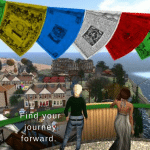 Individuals might have dreams or hopes, but not know how to take the action necessary to gain employment, build meaningful relationships, or communicate their needs or desires. They may be focused on what is wrong in their lives, without being able to see what can be done to improve their lives. Without a plan or map for the future an important tool for making life all that it can be is missing. Our Moving On: Personal Planning Program provides a guided process to help create a plan for the future and gather the tools and strategies needed to carry out that plan.
We've blended our online course with our learning platform in the virtual world, Second Life, to bring students a unique, 3D immersive learning experience.
This unique course launches August 19, 2017. To learn more and register today, click here.
Find out more about BEST in Second Life here.
For a little video inspiration, see below.