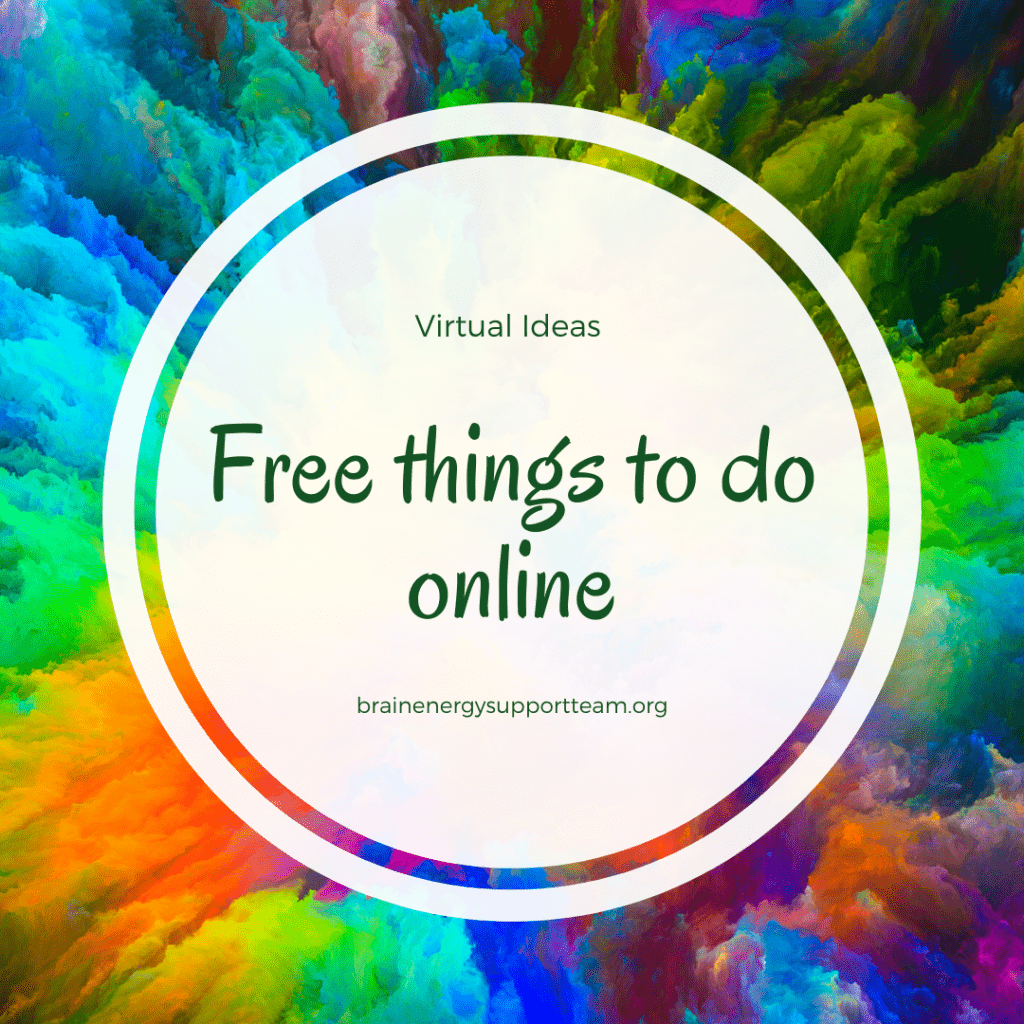 Looking for some free things to do online? 
Here is a guide with links with some virtual ideas on activities and educational opportunities.
Read:
The Brain Energy Support Team (BEST) is proud and honored to have connections with so many fantastic writers in the brain injury community throughout the world. From brain injury survivors to caregivers, to subject matter experts and community partners, our writers cover a variety of topics close to our hearts. Click here to view our article on these writers and be sure to check them out. You will be glad you did!
Our most popular topic on the BEST blog? Self-care. Click here for a library of articles and ideas on self-care on the BEST blog.
Looking for a terrific library of brain injury awareness and caregiver articles? Try these sites (click on the words below to view):
Lash and Association Publishing
View:
Our wonderful BEST friend, the Tacoma Art Museum has a terrific at-home program right online. By clicking here, you can view exhibits, learn about art, get art resources, and create your own DIY project.
Looking to do some more art museum tours? Click here for a few of the most iconic (and free) virtual art museum tours in the world. 
Looking for the ultimate staycation, where you can travel the world virtually? Click here to do just that. 
Enjoy poetry? Our BEST friend, brain injury support group facilitator and instructor, Jennifer McCarthy, shared her poetry for a special poetry challenge at her college, Big Bend Community College in Washington State. Check out the beautiful virtual book of poetry the school is putting together by clicking here. 
Learn:
BEST has created a virtual presence for reaching out to those with brain injury and their caregivers.  BEST hosts a variety of social events, small group discussions, workshops, and skills training. Our goal in Second Life is to support those with brain injury engage in alternative and meaningful learning and PEER support. Our office can be found on Etopia Island in Second Life. Click here to learn more and join us today. 
Looking to learn something new? Click here for 25 options for free online education. 
Virtual field trips are a great way to learn and have fun! From theme parks to zoos, take a trip from the comfort of home by clicking here. 
Check out self-care programming from spas, including virtual spa retreats, as well as yoga and wellness programs by clicking here. 
Listen:
Listen to a book. Click here to learn more about libraries of free audio books. 
Love listening and/or watching musical or theatrical performances? Check out this article by clicking here for some great links and ideas on just that. 
Move and Breathe:
The Love Your Brain Foundation has free yoga videos to check out. Click here to view. 
Interested in meditation? Click here to learn about beginning mediation classes that are online and free.
So, we will leave it here for now. We know there's a lot to digest here. 
Have additional ideas? Share them by email with BEST Communication Manager, Kim Thompson at kimt@brainenergysupportteam.org  as we are going to continue to expand this guide or create additional guides in the future. Thank you!