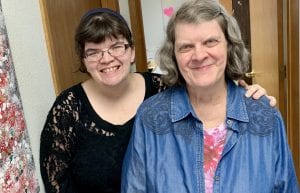 It must be in the genes.
Diane Rasch and Hannah Krueger are not only mother and daughter, but they are also both passionate and dedicated artists. What is even more interesting: both women are featured in the same two upcoming art shows in the Pacific Northwest this year.
The artists will show their work in the 11th Annual Brain Injury Art Show at the Seattle Art Museum next month, and the BEST Superhero community art installation at the Tacoma Art Museum this fall.
The Brain Energy Support Team (BEST) recently had the opportunity to interview both Rasch and Krueger about their approach to art, their journey forward after traumatic brain injury (TBI), and their pieces for the upcoming art show in June.
It wasn't lost on us that both women, during each other's interviews, were beaming with love and pride for one another as each listened in intently.
Let's meet our artists.
Artist Hannah Krueger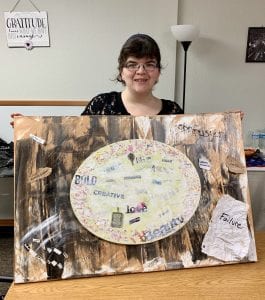 Hannah Krueger began exploring art and creativity in her twenties. It proved to be life affirming and satisfying.
"It helped me go through life. Every piece I do, it means something to me."
Art has been particularly important to Krueger since 2017 after falling in a store and sustaining a traumatic brain injury. While she coped with symptoms right after her fall, her symptoms returned a year later, which created challenges.
Krueger wants to share how she copes through her artwork.
Next month, Krueger will participate in her first art show, the 11th Annual Brain Injury Art Show at the Seattle Art Museum. Her piece, titled, Beautiful You, a mixed media art piece that features paints, paper art, and repurposed materials, has deep personal meaning for the artist.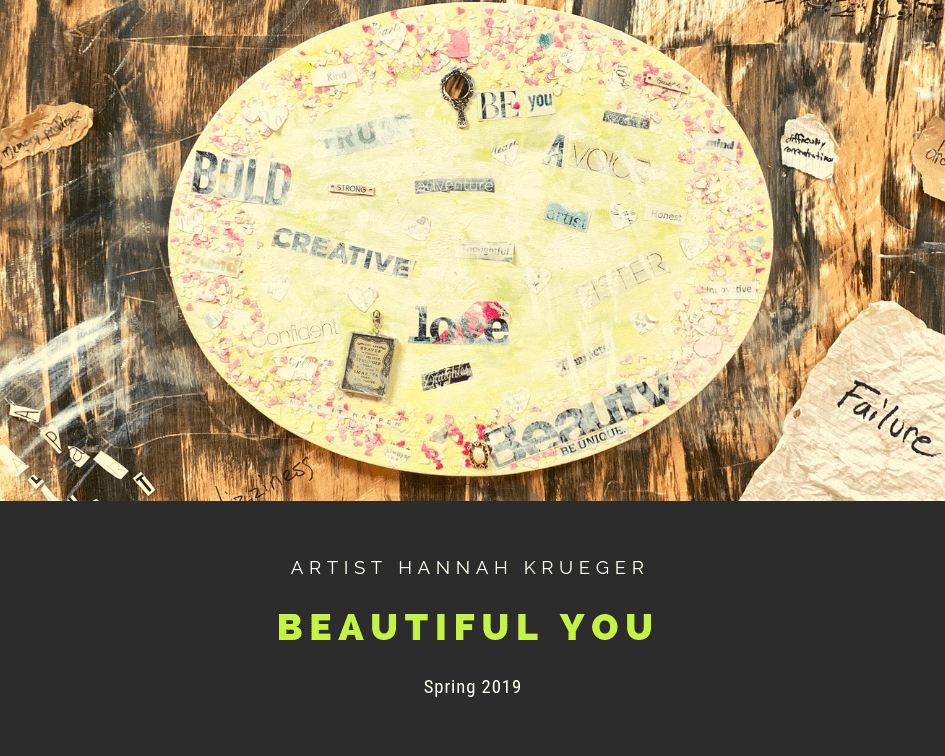 "The circle shows who I am, and the outside shows the TBI," explains the artist.
She breaks down the outside of the piece further.
"As someone struggling with TBI, we feel like we are taped together, and the black and brown, is the nitty gritty of what we go through.
Everything on the board is what I go through and how I cope. By putting the two canvases together, I explore the metaphors of what having a brain injury is like."
Artist Diane Rasch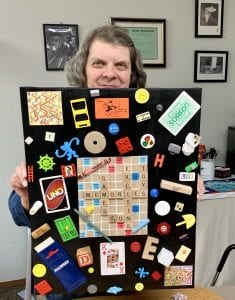 Diane Rasch is a longtime artist, the owner and creator of Heartfelt Tidbits of Creativity, and serves as the BEST Creative Consultant for Arts and Education and the BEST Gratitude Specialist.
Rasch has been participating in the Brain Injury Art Show for six years.
Each piece she has created for these shows have been special, and her 2019 piece is no exception.
Her mixed media collage piece featuring repurposed materials is titled, Memories, and explores memories, good and bad, lost and found.
The artist and brain injury survivor, shares what created her idea for the piece.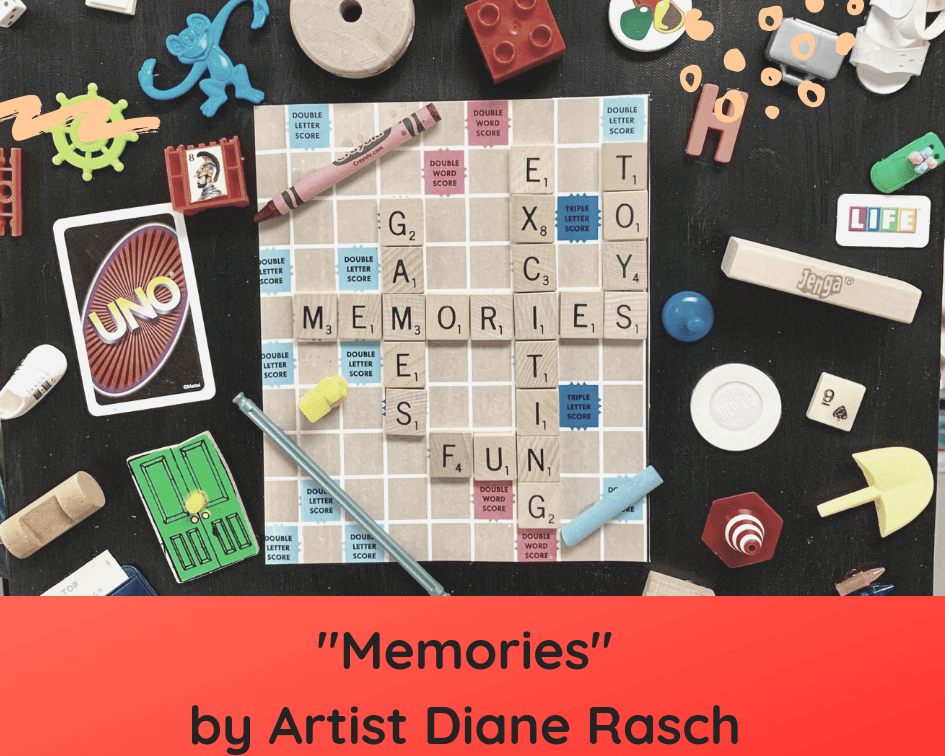 "After brain injury, we struggle with memory," says Rasch. "One day, I saw some of these different items of toys and games, and all of sudden it sparked a memory for me, good and bad."
Rasch continues, "I struggle with memories of my growing up years and my children's growing up years. I do know many of these items were a part of my past.
I wanted to create a piece using scrabble tiles because I was told that this game was a part of my children's growing up time with friends. So, I used these words and items, and put them on a black background to represent hidden or lost memories."
It's Rasch's hope and wish that her piece helps evoke memories for everyone.
"May this piece aid you in bringing back some of your memories."
To learn more about the 11th Annual Brain Injury Art Show, please click here.
To get sneak preview of the BEST Superhero Community Art Installation this fall (and to get involved as an artist), click here.