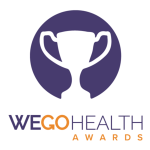 The Brain Energy Support Team (BEST) is excited to announce that we have been nominated for WEGO Health for the Best Team Performance Award in the 2018 WEGO Health Awards.
WEGO Health is a mission-driven company connecting healthcare with the experience, skills, and insights of patient leaders. They are the world's largest network of patient leaders, working across virtually all health conditions and topics. Click here to learn more about their Patient Leader Network.
The WEGO Health Awards were created to celebrate those who tirelessly support the mission of WEGO Health: to empower the patient voice. With 16 award categories, the WEGO Health Awards are the only awards across all conditions and platforms, that recognize the over 100 thousand inspiring
Patient Leaders who raise awareness, share information, and support their communities.
BEST is thrilled and honored to be nominated for this prestigious award. At BEST, our mission, vision, and programs, are built by, and for, adults with traumatic brain injury and their families; all of these elements focus around empowerment and self-care.
At BEST, we do more than survive; we thrive and embrace living our BEST lives possible. The real-life superheroes of the BEST community are changing the world with our empowerment, personal stories and journeys forward!
Being able to share our community's superhero way of living life is so special to us; that's why this award nomination is so amazing.
And you know who else is amazing? James.
Thank you to James, for the lovely words about BEST and being our superhero nominator to make all of this possible!
Here's more about the awards.
This year, the 16 WEGO Health Award winners will be honored at an in-person celebration in October co-hosted by the Society of Participatory Medicine at the Connected Health Conference.
We are now looking to our incredibly supportive network to help endorse us for this award. There are two easy ways to endorse that only take seconds of your time!
Click here to be taken to our  WEGO Health Awards profile where you can click "Endorse" under our  nominee photo.