Hello everyone!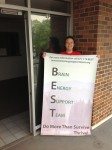 My name is Penny Condoll and I am the proud founder of the nonprofit organization, the Brain Energy Support Team (BEST), headquartered in University Place, Washington. We are an organization that supports individuals with brain injuries, their families and caregivers.
And at BEST, we like to take support to a whole new level.
BEST is dedicated in working, learning and being together as a team, supporting and caring for each other. Together, we are taking the steps to build the BEST lives possible and changing the face of brain injury all together, while building awareness.
We have beautiful individual and collective stories to share about our passions, dreams and lives going forward. And while we know how important it is to look back and honor our journey through brain injury, we are equally (if not more!) passionate to share our new journey going forward and how we plan to give a "hand up" to others who travel along beside us.
Through my own personal journey as a former medical social worker, who not only found myself coping with my own brain injury and the discovery of a lack of support systems I needed to thrive, I, along with other dedicated individuals with brain injury and close supporters, formed BEST.
Our slogan was simple.
We know BEST.
Since 2007, we've been working hard to create the tools, resources, strategies and programs to set the brain injury community up for success in a safe, caring and nurturing environment.
Today, we support of over 70 support groups throughout Washington State, as well as rich and resonant educational programming and support systems that help individuals realize their dreams and potential. We have also developed and implemented fun and engaging socialization activities and special events in our dedicated facility.
And it's only going to get better!
I urge you to peruse our robust website at brainenergysupportteam.org, check out our informative website blog and visit us on our Facebook and Twitter pages for the latest updates.
I also want to extend a warm welcome and invitation to those who wish learn more about our BEST family.
Everyone is welcome and we are so happy to have you!
Join us, won't you?
BEST wishes,
Penny
June 25, 2015