Do you go shopping with earplugs and sunglasses? If you're getting coffee with a friend do you ask to sit outside (even if it's chilly) because it's easier for you to concentrate on the conversation? Do all the chatting, phone ringing, and background activities at work overwhelm you and diminish your effectiveness?
These are just a few of the hoops those with cognitive challenges have to jump through to navigate a neuro-unfriendly world. Just about everyone in our community that I talk with has made it a habit to adapt behaviors in order to lessen the impact of the discomfort families, coworkers, friends, and others may feel when they're around us.
Years ago, my wife was a speaker at a Traumatic Brain Injury Conference. After her presentation, we were headed for an exit so that she could wind down and recover some brain bucks. On the way to the door, a woman we knew to be on the board of directors of a brain injury agency, stopped us. She shared how impressed she was with the presentation considering my wife's brain injury and said … wait for it …
"You don't look like you have a brain injury."
As a result of Traumatic Brain Injury, my wife, then as now, deals with seizures, persistent and consistent head pain (because it's more than an "ache"), and navigates significant memory gaps. Add to that some cognitive function challenges such as prioritization, initiation, and some daily living skills too many of us take for granted can be challenging even with tools, support, and good habits.
Why share this particular story? Because back then we were just developing the tools and processes we offer so that those we work with can live their most empowered life. It was, and remains, our way to help a community that is marginalized and seeking ways to be their best without masking their challenges.
We built our programs based on what helped us. That's why we developed Project PEER and Empowered Self and why, as we learn from others and from our own experiences, our programs continually evolve.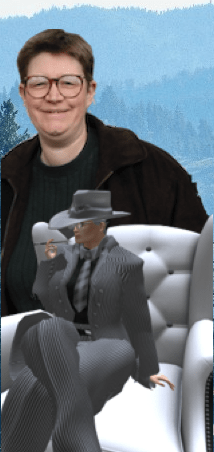 As for myself, and why "This Is Me!" means so much? Since I was a child I was always on the periphery of peer groups, employment opportunities, and personal relationships. All because of my own differences, not only cognitively, but socially. I spent many years creating systems and adapting tools to support my success professionally and personally.
I think many of us do this. I have been fortunate to find a space that allows me to be who I am; the good, the challenged, and the different. "I am brave. I am bruised. I am who I'm meant to be, this is me!"
Wouldn't it be better if we had systems and tools AND the support of those around us? Of course, it would. Could we contribute more? Sure we could. And wouldn't those who are neurotypical benefit from what they could learn from us if we were able to be more open without repercussion, judgment, or discrimination? Without a doubt.
This is why we also share as many positive messages as we can. It's not that we aren't aware of the difficulty of living with a disability or simply being different. It's because we live those things every day. Together we can encourage, support, and create safe spaces for one another. So …
Never make apologies for who you are!
There are two things I encourage you to do after reading this. The first is to watch the video below. You might even want to save it and listen to it anytime you feel like the world around you is trying to crush who you are. The second is to explore our website, learn more about BEST, and what tools and activities we offer that can benefit you.
| | |
| --- | --- |
| | Gloria's career as an independent nonprofit consultant, trainer, and writer spans over 30 years giving her lots to talk about. She has a deep passion for sustainability, both environmentally and organizationally. Enjoy her perspectives on community, development, and tales from her virtual world travels. |