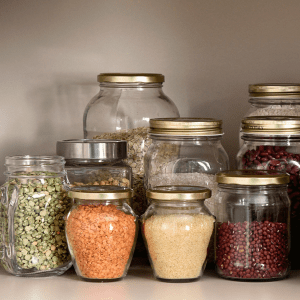 Healthy eating is important for everyone; however, for brain injury survivors, eating nutritious foods are a critical part of overall wellness.
BEST Administrator, brain injury support group facilitator and coach, nutritional food consultant and brain injury survivor, Robin Spicuzza, knows this well: healthful eating has become a way of life and a passion for her, especially since her brain injury.
Learning about what to eat, was interesting and fairly easy. However, storing and preparing foods, was not so easy.
Through trial and error, over the years Spicuzza found a system that works well for her to store and prepare healthy foods quickly, easily and efficiently. Whether Spicuzza is on the go or just wants good nutritious food fast, her techniques have helped her be at the ready.
"After my brain injury, I was on my own. And when it came to food, I got tired of throwing food out that didn't turn out right or getting sick from the expired food I ate," explains Spicuzza. "I also tried to read recipes. Some of them were very confusing to follow and the measurements would end up being off."
"The good news is that I was eventually able to find a food storage system and healthy staple foods that really worked for me. I also realized that I needed to find recipes with just three or four ingredients maximum. With a little preparation, I was able to do that, too."
Following are Spicuzza's tips for keeping organized and cooking good foods fast and easily.
Storing food:
1.    Dry-erase labels on all food containers:  Spicuzza uses this system to label what the food is and food's expiration date.
2.    Keep a calendar: Spicuzza likes to keep a handy calendar nearby to record what food she's purchased and when, as well as keeping a daily log of what she's eaten each day.
3.    Use freeze dried foods: Spicuzza is a big fan of freeze dried foods. Not only do they lock in the nutrition through the freeze-drying process, they have extended expiration dates, so they remain safe to use for a long period of time.
4. Make a food list(s): Make a list(s) of the healthy foods that are important to you and post them in a convenient place so that you can review as much as you need to. 
Preparing food:
1.    Consider investing in a pressure cooker: A pressure cooker is a sealed pot, with a lot of steam inside, that builds up high pressure. This special cooker helps food cook faster. Spicuzza said this is a key tool for her at home. According to Spicuzza, a pressure cooker can make healthy soups from scratch in under 15 minutes. Frozen meats can be defrosted or beans can be prepared in mere minutes. Spicuzza often prepares her freeze-dried foods in the pressure cooker for a fast and easy meal.
2.    Stir-fry: Stir fry cooking is another fast and healthy option that uses a small amount of ingredients and prepares quickly. Spicuzza likes pairing stir-fried vegetables and meats with brown rice for a fast and healthy meal.