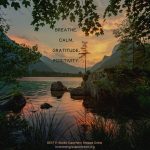 Breathe. 
Calm. 
Gratitude. 
Positivity. 
These four words are something we all could use, especially right now.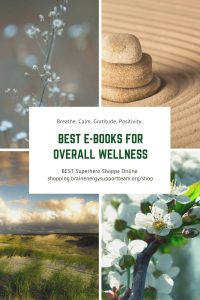 The BEST Superhero Shoppe Online has you covered! 
We are featuring four e-books in our BEST Superhero Shoppe Online that are devoted to your overall wellness.  Even better? Your purchases support the services provided by the Brain Energy Support Team (BEST). 
Get a preview of each e-book below!
Most of us understand that stress is preventing us from enjoying our time, but we don't always know the best way to overcome our stress and continue enjoying our lives despite it. Discover solutions in this simple guide to putting an end to stress and wasted time. You'll learn …
How to reduce the stress you feel each day
How to relax when you get the chance
How to take control of your stress
How you can use techniques to calm yourself
How to can get more done in less time by being more calm
…and much, much more!
Buy BEST Breathe! e-book  here. 
Studies show us that meditation can help to increase alpha and theta brainwaves to help induce states of calm. It can improve symptoms of anxiety and depression, and it can thicken grey matter in the prefrontal cortex to boost focus and creativity. This ebook will guide you through everything you need to know, putting the tools in your hands to use as you need.
You'll learn ..
The different types of mediation and how they differ
How to choose the right kind of meditation for you
The powerful benefits of meditation and simple steps to get started
How to improve your lifestyle and mindset to drive anxiety away
… and so much more.
Buy the BEST Calm Mind e-book here. 
It has been proven time and time again that people who practice gratitude have a better quality of life. However, this is one of those things in life that you have to experience for yourself before you will be able to fully believe it and before you'll embrace it. My Gratitude Journal contains 100 tips, quotes, and gratitude prompts to get you started. You can work through them day by day or skip around. There is no right or wrong way to practice gratitude. The practice itself is where the power resides.
This journal can be printed out as your first gratitude journal.
Buy My Gratitude Journal here. 
The average person generates 25,000 to 50,000 thoughts per day according to Hara Estroff Marano, editor in chief of "Psychology Today" magazine. What if those 50,000 thoughts were positive? You would feel happy, optimistic, and confident about your life. You might find that you consistently accomplish your goals at work and home, making you feel each day was a success. You would also be tolerant and accepting of others as well as compassionate.
This guide will show you how using positive thinking can change your life and help you become more successful.
Buy the Positive Outlook e-book here.