Here at the Brain Energy Support Team (BEST) , stories matter.
Everyone who is involved with the organization has a story to tell and a remarkable personal journey. Our new blog feature, Our BEST Stories, is designed to not only tell individual stories on how people became involved with BEST, but also to inspire, share and promote conversation.
If you've had the opportunity to spend time with BEST Program Director, Penny Condoll, you'll notice that she has an important catch phrase:
"It's a beautiful thing."
At BEST, our stories are beautiful things indeed.
Let's kick off our first story.
Meet Kim Thompson (a.k.a. me, your author!).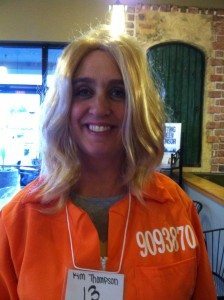 Me, at the BEST 1st Annual Dinner and Dessert Auction on 10/26/13 in costume (I am not really a blonde!)
Name: Kim Thompson
Current City: University Place, Washington
Born: Tacoma, Washington
Personal Life: married, mom of two, freelance newspaper and magazine journalist, BEST team member
Favorite Quote: "Women and elephants never forget." —writer Dorothy Parker
Favorite things: family and friends, good cheese, all kinds of chocolate, running and walking, writing, music, animals, restaurants, Tacoma
My journey to the Brain Energy Support Team was an interesting and unexpected one. I credit a savvy newspaper editor, the happy involvement of the universe and downright good fortune.
As a freelance journalist, one of the key gigs is being a military reporter for a local publication. Back in the early spring, my editor was doling out assignments and he told me that he discovered BEST and thought it would make an interesting story for our readers. After doing the research, I wholeheartedly agreed and picked up the story.
When I contacted BEST for an interview, Executive Director, Gloria Kraegel, got back to me immediately and suggested a meeting. As a journalist, it's always a good sign when a source is eager to talk and gets back to you right away. I had a hunch that it would be a good interview.
My hunch was correct. I had a wonderful meeting not only with Gloria, but with Penny Condoll, BEST Program Director. Both women were so kind, welcoming, open and straightforward about the organization's mission, vision and community engagement.  They were also quite gracious when I kept them 30 minutes over my promised interview timeframe. Let's put it this way: I was so engrossed in the conversation and learning more, that time just slipped away. I thanked both Gloria and Penny for their time, energy and great information.  As I walked out, I knew exactly what needed to happen next.
I decided to write the heck out of that story.
I also decided that it wouldn't be the last time I would see Gloria and Penny.
Again, my hunch was a correct one.
Because BEST had such a rich overall story, I felt that one story just wasn't enough. I wanted to cover the Stitchin' It Up! program as well,  as it touched me so profoundly. My editor agreed and the second story of the series was born.
By the end of that interview, Gloria and Penny were no longer sources, but friends and mentors. We agreed to stay in touch.
It wasn't soon after that meeting, that I learned that the BEST team had acquired a home. I was absolutely thrilled to learn about BEST Space and how everything fell into place to make it happen. When Gloria and Penny asked if I wanted a tour, I jumped at the chance.  It was such a personal treat to see the BEST team's vision come to life in this terrific space. To quote Penny again (because it seems so fitting), it was a beautiful thing.
I popped by the BEST Space Open House celebration later that month and had the opportunity to meet so many really great people. The space looked amazing—so inviting and comfortable.  It was easy to see the loving small touches; but most importantly, it was the team's passion in making this dream a reality that really struck me.
Since that time, I have brought my children to BEST Space. My little test of specialness—simply ask my kiddos what they think.  They told me that they both liked how nice the people were, how cool the craft room was and that they would like to visit again. Out of the mouth of babes, right?
So, I am pleased to announce that I actually am officially part of the BEST family as of early October. I will be helping out with public relations, social media, blogging, and writing tasks to support BEST. I am excited to be of service.
And the timing of this involvement is so deeply poignant for me personally. A very close family member has been struggling with partial complex seizures as the result of a possible TBI suffered earlier in life. While the cause is still under investigation, I was able to gain support and valuable resources from my new friends at BEST. It was a salve for my entire family.
As I journey forward at BEST, I know my story will grow, change and become even more wonderful. I am so looking forward to getting to know all of you and enjoying some good conversations. I also welcome your ideas, feedback and questions on the blog and our Facebook and Twitter pages.  Contact me at kimT@brainenergysupportteam.org.  Looking forward to chatting soon!