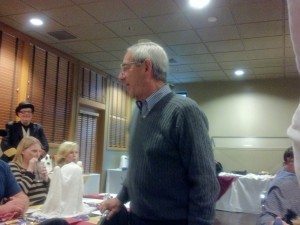 Welcome to our new blog feature, the Monday Kick-starter Quote of the Week. We could all use a little inspiration on a Monday, right? To kick off the new feature, we would like to quote a local Tacoma legend that spoke to auction patrons at the first annual BEST dinner and dessert fundraising auction.
"There are two ways to think about things: Either 'I think I can do' it or 'I think I can't do it.' It's all in the attitude, folks. A positive attitude is everything!"
—Joe Stortini, local restauranteur, philanthropist, and Tacoma icon during the welcome address at the recent BEST fundraising auction at his restaurant, Joeseppi's.
Wise words Mr. Stortini!
Have a personal and meaningful quote you'd like to share? Let us know!