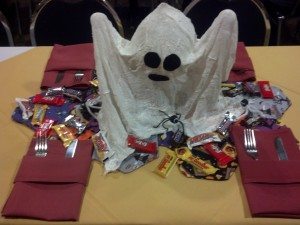 Oh what a night!
The first annual BEST Frightfully Delightful Dinner and Dessert Fundraising Auction was held on October 26, 2013 at Joeseppi's Ristorante in Tacoma.  Auction patrons came from near and far, some even decked out in costumes and spiffy Halloween duds, to feast on delicious Italian cuisine, bid on yummy desserts and other fabulous items in the silent auction, partake in the lively drawings for raffle prizes and door prizes and participate in the spirited costume contest and impromptu Halloween costume parade/mini-dance off!
Thanks to the team at Stichin' It Up!, the auction banquet room was festively decorated in the spirit of the season: cute and delightful ghosts atop beautifully crafted cloth place mats adorned with ghosts and pumpkins and googly eyed spiders surrounded by gobs of fun-sized Halloween candy treats which were enjoyed by all.
The silent auction, held in Joesepppi's roomy deli area, gave bidders a great opportunity to peruse mouth-watering and positively artistic desserts, generously appointed gift baskets, gift certificates for terrific goods and services, and so much more.
Joesepppi's restaurant owner,philanthropist and Tacoma icon, Joe Stortini, addressed the crowd with a warm Italian-style welcome and spirited speech on having a positive attitude and perseverance.
BEST Executive Director, Gloria Kraegel thanked auction participants for their attendance and participation.
BEST Program Director Penny Condoll updated the audience on the current BEST program offerings and expressed gratitude to her fellow teammates and board members for all their hard work and dedication to the mission and vision of BEST. BEST Training Coordinator Janet Novinger, Stitchin' It Up! Coordinator Karen Shepard, and Outreach Support Coordinator Paul Bishop echoed Gloria and Penny's words, and expressed their eagerness to continue on with the good works of the organization.
BEST Board President Tawnya Padilla and BEST Board Vice President Maggie DePuye-Phillips, along with Gloria Kraegel and Kim Thompson, served on the auction event committee. The auction team was delighted by the turnout and really enjoyed visiting with patrons. They expressed their personal thanks to those who supported the auction's vision, planning, and execution.
Special thanks to Joe Stortini and his team at Joeseppi's for their extraordinary service and warm hospitality, to all of the all wonderful event sponsors and other donors for their generosity and support,  and finally, to all the family, friends, and supporters of BEST who made this evening possible with their generosity, encouragement, love and support.
To get a photo recap of the evening's events, please visit our Facebook page here at https://www.facebook.com/pages/Brain-Energy-Support-Team/165908016753065. In fact, "like" us on Facebook (and Twitter too!) to keep up on all the latest updates, information, and special events that BEST has to offer.
Enjoy!