Kathi Sturgeon knows one thing for sure: support is still here.
The home care professional, nonprofit board director, sports enthusiast and brain injury survivor, recently reflected on how COVID-19 has impacted her.
The quick conclusion: it hasn't been easy. Kathi explains.
"One of the challenges has been keeping up with the seemingly constant changes," shares Kathi. "One day we're able to do one thing, the next day or two, we might not be able to do something, or the expectation has changed
There seems to be so many voices out there, so who do I listen to?"
Kathi continues, "It feels so confusing. I want to do the right thing, but at times I've wondered, what is the right thing to do?"
Her solution: to simplify and to reduce the noise out there.
"To navigate this, I've pulled back by watching less news, as well as tried not to listen to all the voices, but to find the trustworthy one. I have also sought counsel and input from people I know and trust."
In addition to navigating COVID, her work life, personal life and interests, daily living routines and brain injury, keep her plate full.
And despite that full plate, she knows that support is there. It fuels her spirit on a deeply personal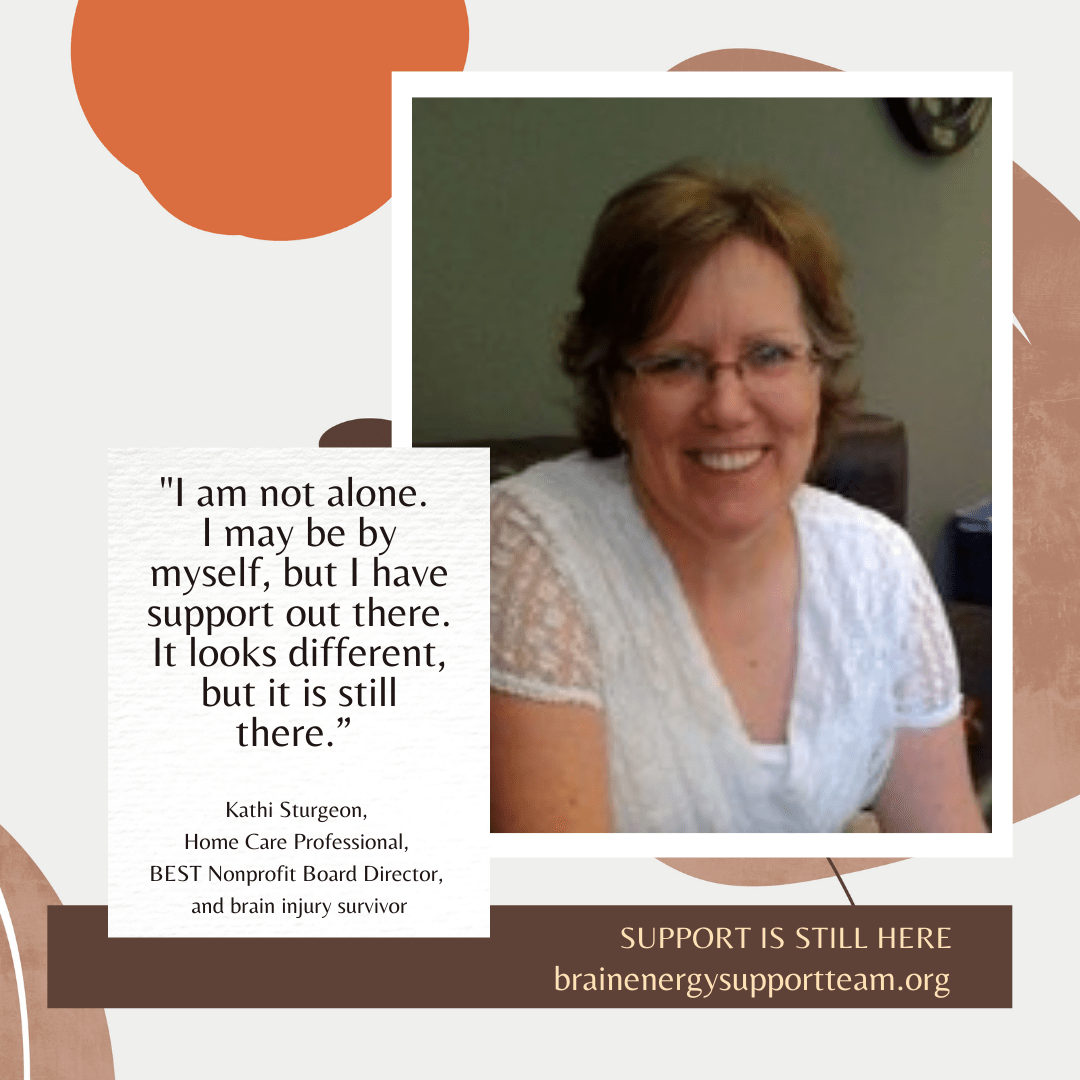 level and continues to ignite her longtime passion to support fellow brain injury survivors and create brain injury awareness for the community at large.
The Brain Energy Support Team (BEST) has been a big part of this support and it's made a positive impact.
"The encouragement through texts, phone calls, and emails is great," says Kathi. "I have appreciated the posts that BEST has made on social media, too."
Kathi notes, "BEST is such a strong voice and hope for the brain injury community. I am unaware of other resources for our community. Since I know and trust BEST, it's been a lifeline for me.
I am not alone. I may be by myself, but I have support out there. It looks different, but it is still there."
What's next for Kathi? What does 2022 look like for her?
"I head into 2022 with more experience and insight. Though we'll still be dealing with COVID, I have learned a lot to take into the new year."
And Kathi's wish?
"I have the hope that we can do more together in person. This is so important for anyone, but for the brain injury community it is vital. I think it is going to happen."
Join Kathi and the BEST community of support. Click here and to learn how you can help.
All are welcome!