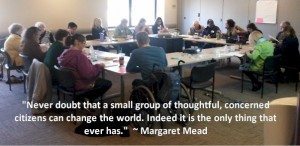 The Brain Energy Support Team (BEST), passionately believes in the power and value of support groups.
We also recognize and honor the important role support group facilitators play in helping to make support groups thrive.
Over the past three years, BEST has actively engaged in communities across Washington State, working closely with brain injury support group facilitators and support group participants. It is through these valuable conversations that we have gained key learning and understanding about the issues and needs of support group facilitators and participants.
We have listened and worked with facilitators, government agencies and others to be able to best provide solutions to those concerns and needs.
That is why we are pleased to introduce you to a new program that will give support group facilitators more connections, support and resources.
BEST Groups is a wide-reaching network of brain injury support groups throughout Washington State that have chosen to join together with BEST to provide leadership, advocacy, awareness and more, on behalf of individuals with brain injury and their families.
BEST Groups reflects the vision, aspirations and uniqueness of a strong community of passionate and committed support group facilitators.
By joining together, we have a stronger voice and more opportunities to meet the needs of individuals and families in every community across the state.
The BEST Groups Network is designed to help facilitators to take their support groups to the next level of support, by being a part of a dynamic, caring and supportive community of others with the same mission, passion and goals.
Members of BEST Groups can expect that BEST will provide:
Continued mini-grant support and other grant opportunities.
Volunteer liability insurance coverage.
Financial management and budgeting assistance.
Support for community outreach and special events.
Monthly newsletter.
Assistance with transportation issues.
One-on-one facilitator coaching.
Monthly online discussion in this "Coaching Corner."
Professional development opportunities.
Free online classes designed especially for facilitators.
Voting rights and other BEST membership privileges.
Membership in the BEST Groups Network is FREE and completely voluntary.
Please contact Gloria Kraegel, BEST Executive Director,  by email at gloria@brainenergysupportteam.org or call me at 877-719-2378, at extension 105, to join BEST Groups or even if you have questions.