Brain Energy Support Team (BEST) Founder and Chief Visionary Officer, Penny Condoll, was honored yesterday for her outstanding contributions to the community by U.S. Senator, Patty Murray,  at the 20th Annual Golden Tennis Shoes Awards Luncheon held in Seattle.  This prestigious award recognizes individuals who make a difference in the lives of others and their communities.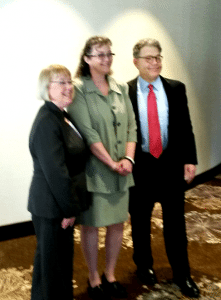 Condoll, who founded BEST in 2007 in an effort to better support individuals with brain injury like herself, has been a passionate leader, advocate, supporter and mentor in the brain injury community in Washington State.
She is honored and humbled to be recognized by the senator.
"I am so honored to be a recipient of the Golden Tennis Shoe Award," says Condoll. "I am so impressed with the work that Senator Murray does for Washington State and for our country and to be recognized by the senator is really amazing."
Condoll continues, "What's even more amazing, is the brain injury community itself. I see many people with brain injury, each and every day, contributing to their communities, making a difference in the lives of others and striving to live the best lives possible.
Over the last decade, together, we have changed the face of brain injury. I am deeply proud to be a part of this community and so in awe of the beautiful work our community is doing to build awareness and support for others."
Condoll is also quick to pay homage and give thanks to the "BESTies," whose determination, energy and spirit inspire her every day. She dedicates the award to them.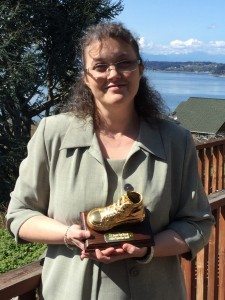 Condoll's work, along with her fellow BESTies, over the last eight years speaks to the award's meaning. The essence of Golden Tennis Shoes Award captures the spirit of an ordinary person doing the extraordinary in order to help and support others, something Senator Murray holds dear.
In fact, the award's title itself was the result of Murray's personal experience before she entered politics. In the 1980's,  Murray, a concerned parent, went to Olympia to advocate for a local preschool program targeted by state budget cuts. A state politician at that told Murray that she couldn't make a difference because "…she was only a mom in tennis shoes."
That "mom in tennis shoes" went on to not only save the preschool program, she funneled her passion to give Washington families and citizens a voice in her subsequent roles as a school board member, state senator, and now today, as a long time member of the U.S. Senate.