Pacific Northwest paper and mixed media artist, owner of paper arts and goods company, Heartfelt Tidbits of Creativity, and BEST Gratitude Specialist, Diane Rasch, recently unveiled her latest mixed-media art piece that will be part of the 2017 Brain Injury Art Show being held at the Bellevue Art Museum in Bellevue, Washington. The show will run from June 30, 2017 through October 1, 2017 in the Bellevue Art Museum's Community Education Gallery.
Rasch participated in last year's show with her mixed-media project that depicted the human brain, called "My Beautiful Brain."
This year, Rasch is especially excited about her latest project as it has a special personal meaning for the artist.
Called, "My Puzzling Life," the piece depicts important symbols of hope, dreams and challenges in the forms of "puzzle pieces" that share the artist's life of navigating through brain injury.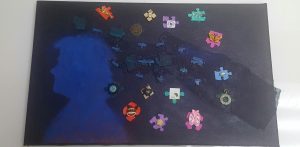 "This one was hard to make," smiles Rasch. "There was a lot to say and share, more so than my brain piece from last year."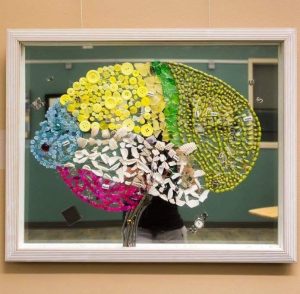 "But I just love this new piece," continues Rasch. "It's very special to me. It represents my dreams, some of them which have come true, even with a brain injury. It share symbols of time, hope, change, good things, and hard things, too."
Most of all, Rasch's piece is a dedication, not only to her journey forward, but to someone and something very special to her: BEST Founder, Penny Condoll and the Identity and Moving On After A TBI program offered at BEST.
"Penny's been my encouraging and supporting voice. Actually,  I'm going to say this piece is a representation of what Moving On can do for you. Thank you to my dear friend, Penny."
Rasch wishes to also acknowledge with great appreciation the collaborative assistance of Tim Mansen.