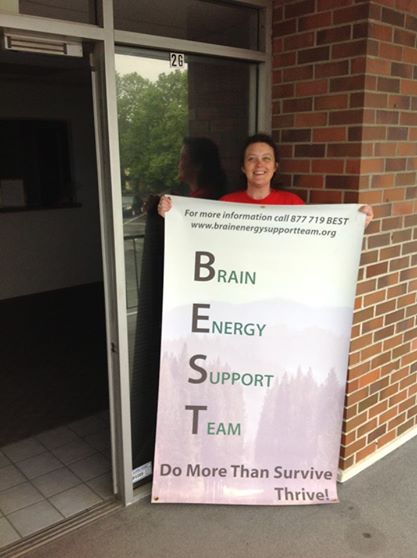 It's a perfect way to wrap up our social media book themed week at the Brain Energy Support Team (BEST). Below are the BEST Founder and Chief Visionary Officer, Penny Condoll's book picks! Thank you Penny!
Over My Head: A Doctor's Own Story of Head Injury from the Inside Looking Out Paperback – March 1, 2000
by Claudia L. Osborn
This was my first brain injury book. Tyne (Condoll's daughter) read it to me at 9 years old ( three years after my injury) and it was so powerful. It's a story about a doctor who has a brain injury and how she rehabs and finds a way to participate in life fully again. Very powerful for this social worker who was grieving not being able to return to the hospital to work.
I'll Carry the Fork! Recovering a Life After Brain Injury Paperback – October 1, 1999
by Kara L. Swanson
Tyne also read this book to me and it is a great read. This book is inspirational and practical but most of all it is funny. It gave me permission to laugh about the crazy stuff that happens when you are recovering your life after a brain injury.
The Mild Traumatic Brain Injury Workbook: Your Program for Regaining Cognitive Function and Overcoming Emotional Pain (New Harbinger Self-Help Workbook) Paperback – November 1, 2004
by Douglas J. Mason PsyD LCSW (Author), Marc Irwin Sharfman MD (Foreword)
This is the book I refer most for people. It is an excellent way to look at the symptoms your experiencing and through this wonderful workbook understand your brain injury better and creates better ways to discuss this with people around you and your health care team. I love love love this workbook.
Coping with Concussion and Mild Traumatic Brain Injury: A Guide to Living with the Challenges Associated with Post Concussion Syndrome and Brain Trauma Paperback – November 5, 2013
by Diane Roberts Stoler (Author), Barbara Albers Hill (Author)
This is the new version of what I consider the "handbook" for survivors. Dr. Stoler is a survivor and practicing doctor and really gave great explanation and advice that you don't hear everywhere. I think of this as the TBI 101 book.
After Brain Injury Telling Your Story, A Journaling Workbook Perfect Paperback – January 1, 2009
by Barbara Stahura
Another great how-to book.
My Stroke of Insight: A Brain Scientist's Personal Journey Paperback – May 26, 2009
by Jill Bolte Taylor Ph.D
Fascinating story.
In Search of Wings: A Journey Back from Traumatic Brain Injury
by Beverley Bryant (Author)
My favorite part of this book are the poems that are included in her story. I have them all bookmarked at the Space and pull them out from time to time for inspiration.