The Brain Energy Support Team (BEST) is proud to be a partner and BEST friend to HeadStrong.  This innovative organization serves the pediatric brain injury community and their families here in Washington State.
HeadStrong has a number of engaging and terrific activities and events this fall. They are also a fantastic resource and wealth of information for the entire brain injury community. So, with that, BEST will be kicking off your weekends this fall with weekly posts featuring the latest HeadStrong news! Check it right here each Friday morning and watch for announcements on our Facebook page.
You'll be glad you did!
The 2015 Mentoring Programs
Our BEST friends at HeadStrong are well-known for their terrific and informative mentor programs for brain injury. We are proud and excited to announce that these programs are back again this fall with even more engaging and enriching programming. All workshops will take place at the University of Puget Sound (UPS) in Tacoma, Washington.
Here's the scoop on the fall offerings. Click on the links to learn more about each workshop, registration, pricing and more.
Rebuilding Identity, Tuesday, September 29, 2015 from 5 p.m. to 8 p.m. 
Conflict Resolution, Tuesday, November 3, 2015 from 5 p.m. to 8 p.m. 
Meaningful Projects and Activities, Tuesday, December 1, 2015 5 p.m. to 8 p.m. 
The 2nd Annual BEST/HeadStrong Picnic, Sunday, October 11!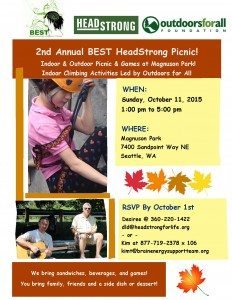 Stories of a Lifetime at Camp Korey, October 17!