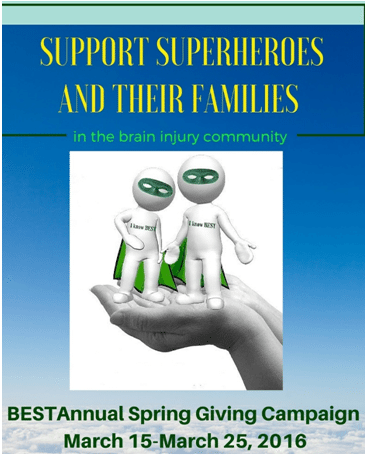 In 2008, a small group of people with brain injury, along with their families and other supporters, asked an important question.
Why not us?
This lead to more questions. Why couldn't we be leaders in brain injury awareness and advocacy? Why can't we create programs, resources and support structures for our own brain injury community and their families? Why can't we thrive after a brain injury and be superheroes to ourselves and others? After all, don't we know what we need BEST?
The answer? The formation of the Brain Energy Support Team (BEST), a unique organization that creates awareness, change and support for each other, by each other.
Now we are ready to make it the BEST spring ever for the superheroes and their families of the brain injury community. You can, too, starting TODAY.
We are proud to announce Spring for Superheroes (#spring4superheroes). our annual spring giving campaign.
We are seeking to raise $5,000 by March 25, 2016 to support BEST educational resource development and implementation for BESTies and their families.
Your donation directly supports providing the valuable tools to empower, coach and give hope to a growing number of survivors who need our help.
How to Donate Online In TWO Easy Steps
Donating to BEST online is fast, secure and simple. Donations are accepted right on the BEST website!
Here's how you do it!
Step 1: Click on the large box with the BEST superheroes on the BEST home page.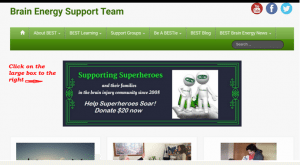 Step 2: Click on the donate button (circled in the picture below) to the right and you are on your way!
Don't have online access or would prefer to send a check? No problem! You are welcome to mail a check made out to the Brain Energy Support Team. You can mail it here: Brain Energy Support Team, 3800A Bridgeport Way W. #393, University Place, WA 98466.
All donation amounts are accepted and very much appreciated!
And AFTER you donate, let people know! Share the message of hope and help. Feel free to download this picture and share it on your personal and/or business social media accounts, LinkedIn accounts, send it by email or print it as a flyer!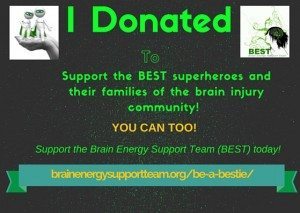 Social media users, be sure to watch the BEST Twitter feed and BEST Facebook page (including a dedicated Facebook event page that launches March 15) that highlights the campaign along with Brain Injury Awareness Month news and inspiration.  Would you like to see some BEST videos? Look no further than our dedicated BEST YouTube channel!
Thank YOU for being a superhero to superheroes and supporting the BEST mission and vision. You are all the BEST!