FOR IMMEDIATE RELEASE March 15, 2016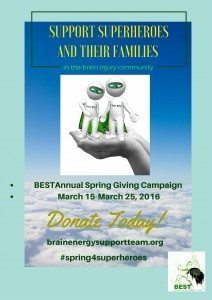 Kim Thompson
Brain Energy Support Team (BEST)
kimt@brainenergysupportteam.org
1-877-719-BEST Ext. 106
Twitter: brainenergyteam
Hashtags: #TBITalk, #spring4superheroes
Nonprofit Spring Event Seeks to Empower State's
Growing Brain Injury Community
Unique local nonprofit launches spring fundraiser to support continued educational and brain injury awareness efforts in Washington State
University Place, WA: The Brain Energy Support Team (BEST)distinguishes itself from other brain injury organizations in that the leadership, services and programs are built by and for people with brain injury and their families. Beginning March 15, 2016, BEST is seeking to raise $5,000 by March 25, 2016,to refine and expand its educational tools and resources for the brain injury community. Through these efforts, BEST will be further able to increase brain injury awareness, as well as empower the growing brain injury community throughout the state.
The general public will have the opportunity this month to hear people's personal stories and learn more about the powerful impact of brain injury on individuals, families and communities. People will be invited to donate and learn more online at the BEST website, brainenergysupportteam.org, throughout the campaign. BEST will also be sharing awareness information to take part in the national Brain Injury Awareness Month throughout the entire month of March.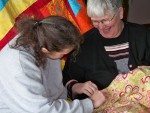 "Because we are an organization entirely created and run by people and their families directly impacted by brain injury, we have a unique perspective on what people in our community need and the need is great," says Gloria Kraegel, BEST Executive Director. "We often hear directly from the people we support that BEST has created a safe and supportive environment for them to explore and learn new things so that they can feel good about themselves. Through personal and peer educational development, we look to do more than survive, but to actually thrive, feel empowered, and to build the best lives possible going forward."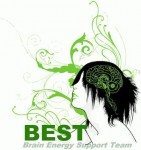 About the Brain Energy Support Team (BEST):
The Brain Energy Support Team (BEST), is a 501c3 nonprofit organization founded in 2008. The mission of BEST is to provide support, advocacy, public awareness, education and socialization opportunities to individuals with a brain injury and their families. BEST provides support to over 70 brain injury support groups in Washington State. Learn more at brainenergysupportteam.org.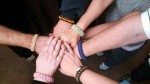 ###