For those of you who have already donated to our spring superhero mission possible to raise $5,000 by March 25, 2016  to help with the development of additional educational resources for the brain injury community, our heart-filled THANKS. Thanks to your generous donations, you will providing hope and support for some terrific superheroes and their families. A superhero to a superhero, indeed.
Want to share the love of giving? Then do so, right here! Download  or print and share the special BEST "I Donated" postcard to share with family, friends, neighbors, co-workers and community members to show the love!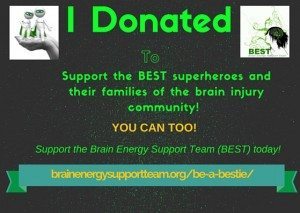 If you haven't had a chance to donate, it's not too late! Click here and you are on your way!