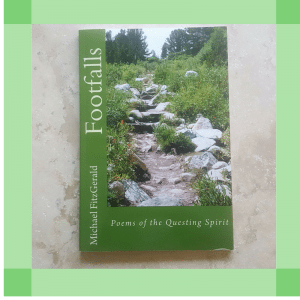 The Brain Energy Support Team (BEST) is honored to share a special book by a special poet.
"Footfalls: Poems of the Questing Spirit," written by poet and blogger,  Michael FitzGerald, is a collection of poems written over a span of thirty years that explores life and the human experience. Fitzgerald weaves his curiosity about life with natural imagery, deep emotion and rich metaphor.
About the poet:
Born and raised in the Pacific Northwest and a current resident of the Central California coast, FitzGerald is a retired ordained pastor, husband, father and grandfather.
The highly-acclaimed and beloved poetry collection, published in 2016, marks a year of life-changing news for the writer. FitzGerald was diagnosed with a brain tumor last year and is undergoing chemotherapy and radiation treatments. He has documented his medical, emotional and spiritual journey on his blog, fatmouth.org, and on social media.
A poem from Michael FitzGerald: 
FitzGerald has given BEST exclusive permission to share a poem from his book. We would like to offer our BEST thanks and appreciation for this wonderful gift. BEST friends, please enjoy the poem below.
To learn more about "Footfalls" please click, here. To visit FitzGerald's blog, fatmouth.org, please follow the link, here.