When someone experiences a brain injury, the whole family experiences this, too.
The most common emotions and feelings family members and caregivers experience according to experts are disbelief, stress, grief/sadness, anxiety, and in time, acceptance.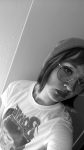 Erin Thompson, a Washington State high school student, artist, BEST volunteer and family member of a survivor, decided to represent the emotions and feelings noted above that family members and caregivers go through when a loved one has a brain injury through her art.
Thompson has created an online art series of five portraits called, Path to Acceptance.  As a BEST exclusive, we will share the portraits each day on our website blog and social media.
To read more about the artist and the project, click here.
Portrait One, Day One: Disbelief