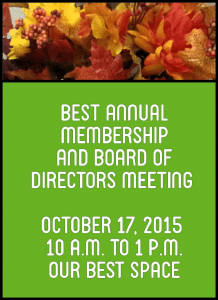 Your input sought!
The Annual Brain Energy Support Team (BEST) Membership and Board of Directors Meeting is taking place this Saturday, October 17, 2015 at Our BEST Space in University Place, Washington from 10 a.m. to 1 p.m.   Join other BESTies in sharing your thoughts, ideas and input on all things BEST.  We'll also tell you about other important organizational news and introduce you to our new BEST board candidates.  No RSVP necessary.
All are welcome!
Join us won't you? We value your participation and look forward to seeing you there!
The next Board of Directors Meeting will be held at 10am on Saturday, July 13, 2013 at the Tacoma Area Coalition of Individuals with Disabilities (TACID.
TACID is located at 6315 S 19th Street, Tacoma WA 98466.
Please note that the date is subject to change at the Board's discretion and post updates here if a change in the Board meeting schedule is made.
The Board meeting agenda will be posted prior to the meeting.