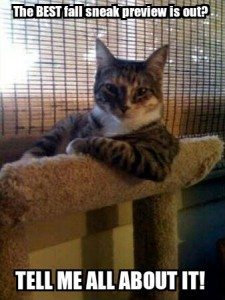 Yes, dear Kitty, the BEST fall sneak preview is here!
Here's what you can expect from your friends at BEST this fall season:
1. Our BEST Space is at the ready to offer engaging activities, workshops and so much more! In order for BEST to deliver these terrific opportunities, Our BEST Space now has exclusive hours. Be sure to check the BEST activity schedule on our website for BEST Space availability and the current activities that are happening. Click HERE to check the schedule today and plan your next visit in advance!
2. We will continue with our #superheroesatourBEST campaign to celebrate the people of BEST! Watch for fun recaps, articles, activities and more online from across the state of Washington (and even beyond!)  that highlight the many BEST superheroes and their accomplishments.
3. The conversation continues about why support groups are important and matter. Continue to share your voice and be heard!
4. BEST will continue to share community news on events, our community partners and news inside and outside the brain injury community. Follow this blog and our social media pages (Facebook and Twitter) to get the scoop this fall!
5. And for our final news (insert the sound of a drum roll, please….). BEST is pleased to announce that we will be debuting  a brand spanking new promotional video this fall! This video will not only tell viewers all about what BEST has to offer, but it will even tug at the heartstrings, too! Stay tuned!
Got a question? Need more information? We are just an email or phone call away!