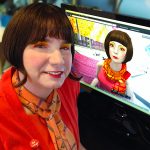 Meet a real-life superhero from two worlds!
Renne Emiko Brock is an artist, instructor and superhero advocate who supports and empowers fellow superheroes to be their best selves. She shares her time, talent and support in the real world, both locally and nationally, and in the virtual world platform of Second Life.
Known for her positive energy and passion, Brock has touched the lives of many in both worlds.
The Brain Energy Support Team (BEST) is honored and delighted to announce that Brock is our BEST Superhero of the Month for April 2018.
Here's what Brock's nominator had to say about her:
Renne Emiko Brock is an artist, instructor, superhero, and advocate of awesomeness empowering people to be their best virtual and tangible self by advancing excellence, exceptional pursuits, and individualism through creative expression and encouraging instruction with inspired results. As an instructor at Peninsula College in Washington State and in the virtual world, Second Life, Renne teaches multimedia communications.
Renne is best known for teaming up with BEST in Second Life to offer her "Hue are You?" workshop. She's a BEST Superhero because when she works with BESTies she uses her art to bring out the awesomeness in every participant. Renne passionately creates an active, inclusive education and community experience for everyone.
To quote Renne, "Always using my superpowers for good!"
Click here to learn more about Brock's projects.
Congratulations and BEST wishes to Renne Emiko Brock! We thank you for all that you do for the brain injury community and for superheroes everywhere.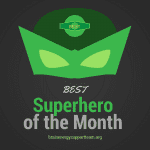 Have a superhero in your life that you would like to share with us? Click here for our fast and easy process to nominate a superhero!