You might be asking yourself "how can a virtual world enhance your first life?" and "What is a first life anyway?"
Let me start by saying that my experiences in the virtual world of Second Life are as real as in physical spaces such as with friends in my living room, cooking in my kitchen, and with everyone at Our BEST Space. The interactions with new people and the friendships I've developed over the past 10 years are just as real. Since both are real I no longer think of this space as my "Real Life," but as my "First Life" since this came first and my second life in virtual worlds came about much more recently.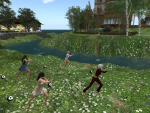 Second Life enriches my life because in a virtual world as robust as Second Life I can enjoy concerts, fly an airplane, shop, visit museums, and even go jousting. Granted, there are many things I do in Second Life that I wouldn't, or even couldn't, do in my physical world like jousting or free-falling without a parachute. And there are things I can't do in my real life because of stimulus issues and cognitive overload. Concerts, shopping malls, and large public gatherings.
Here are five ways my Second Life enhances my First Life …
(1) Friendships are important to me and those closest to me have been a part of my life for many years, both in Second Life and my first life. Behind every avatar is a real person with their own work, desires, dreams, and stories to share. The things I learn from my Second Life friends often give me perspectives I wouldn't have considered.
(2) Live Music & Clubs are fun and familiar ways for me to enjoy music, friends, and a lively social scene. In my real life going to a concert or spending time at a club will overload me in short order. In Second Life I control the volume of the music, monitor who I chat with, and turn off the sparkly bling (think light show on stage and disco balls over a dance floor). I also can think through what I want to say before sharing it; struggling to find the right words is easier in a virtual setting than in real life.
(3) Creative Spaces are easy to find and engage in. From museums to art galleries to sculpture parks and sandboxes to build my own creations in, Second Life has it all. I've enjoyed gallery exhibits of artists I would never have had the opportunity to see in real life. I've been to museums like the Louvre and the Holocaust Memorial Museum. This is different than a virtual tour. My avatar can walk through the exhibits and spend time with an item of interest. Other creative presentations in Second Life include opera, theater, movies streamed into a virtual movie house, the ballet, poetry readings, drumming circles, tours, and more.
(4) Professional Development is one of the most important reasons I spend time in Second Life. As a member of the Nonprofit Commons group I'm able to share my experiences in key areas with other nonprofit leaders who also share their challenges and successes. This has been an incredible and low-cost way to learn new things to benefit BEST and share our message with others. Nonprofit Commons, like many of the professional associations in Second Life hosts presentations by experts, board leaders, foundation representatives, and others.
(5) Lifelong Learning, like professional development, has been a major part of what I do in Second Life. There are universities that offer a variety of classes in Second Life. Some actually offer complete degree programs in Second Life. If that's a little overwhelming there are workshops, lectures, and other kinds of classes to attend. For example I teach a tai chi class every Friday.
These are just a few of the many engaging and valuable activities I enjoy in Second Life. But it's just a game, you might think. Admittedly, for some people it is a game or an opportunity to role-play, for example, in a medieval world that allows jousting.
However, for those of us with physical and/or cognitive challenges that make interacting with the world around us difficult at best and debilitating at worst, Second Life offers an opportunity to do the things we cannot do effectively or enjoy to its fullest in real life. This creates a feeling of community and belonging that deeply enriches my real life.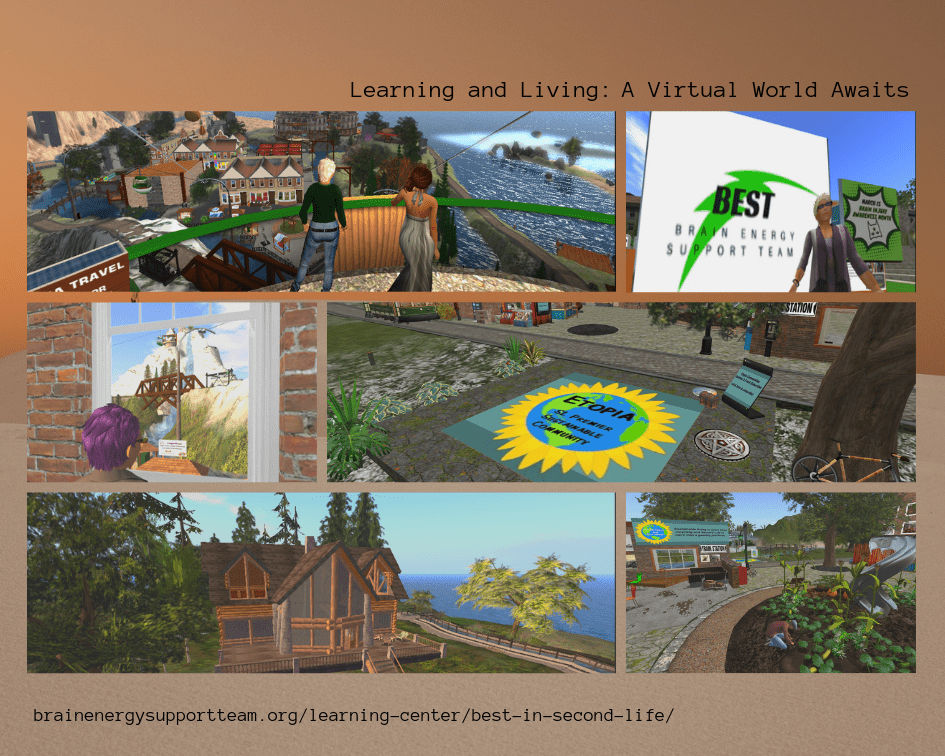 | | |
| --- | --- |
| | Gloria's career as an independent nonprofit consultant, trainer, and writer spans over 30 years giving her lots to talk about. She has a deep passion for sustainability, both environmentally and organizationally. Enjoy her perspectives on community, development, and tales from her virtual world travels. |