(Editor's note: Writer and blogger Kirsten Short shares her take on fall in a beautiful and powerful way for survivors. Prepare to be inspired by Kirsten and the autumn season. KT)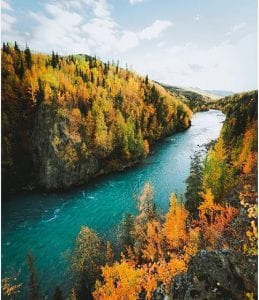 In 2010, I went on a road trip where we drove around Northern British Columbia and into Alaska. It was mid-September and to this day, the orange, yellow, red and green landscape is still the most breathtaking thing that I have ever seen.
To say that the autumnal scene was beautiful is a gross understatement. William Cullen Bryant wrote that fall is the year's last, loveliest smile.
I think he was right.
Nature does more than just make things beautiful during fall, it also gives us some valuable lessons.
Lessons? Yup, you read that correctly. Autumn teaches us about change, letting go and personal growth.
Lesson #1: Autumn teaches us that change can be beautiful – unknown
Every aspect of my life changed in February of 2017 when I sustained a concussion. My injury affected me emotionally, cognitively, physically and financially. I lost my independence, my job and some of my relationships. Scratch that, my life didn't just change, I changed. I am not the same person I was before my accident and grieving the loss of who I once was and learning to love the person I am now has not been an easy feat (I think every brain injury survivor can probably relate to this).
What I've come to realize though is that just as nature transforms the trees into something beautiful during fall, we, too, can transform into something beautiful after our injuries.
Trauma creates change that you don't ask for. Healing creates change you do choose.  Michele Rosenthal
The first step? Let things go.
Lesson #2: Autumn reminds us of how beautiful it is to let things go – unknown
I find it so therapeutic to watch the leaves fall from the trees. What would happen if we let go of our worries, unrealistic expectations, painful memories, anxiety, stress, and more, just as easily?
Since my concussion, my biggest problem (maybe not my biggest problem, but it's in the top five on my list of biggest problems) is that I am constantly comparing myself to others and comparing myself to who I was pre- concussion. It has been extremely difficult for me to accept who and where I am.
Dr. Alexa Altman, a clinical psychologist, wrote this:
"…the work I do… often circles around themes of loss. The loss of a role, loss of the relationship, loss of security, loss of identity, loss of connection, loss of innocence. Accepting these losses takes time, patience and an incredible amount of faith. Faith enters in the form of a willingness to see who you will become as a result of these losses. That through loss comes the birth of other parts."
In her book, The Gifts of Imperfection, Brene Brown also encourages us to let go of who we think we are supposed to be and embrace who we are. Her research suggests that this is the key to being authentic and living a wholehearted life.
Her advice is to DIG Deep – get Deliberate, Inspired, and Going when we are exhausted and overwhelmed.
For instance, in my case, when I am playing the comparison game, I should instead get Deliberate in my thoughts and behaviors through prayer,
meditation, or simply setting our intentions (I could create a personal mantra that I repeat to myself every morning); Inspired to make new and different choices (to find inspiration, I could research other brain injury survivors who have done wonderful things because and despite of their injuries); and Going. I need to take action (time to make a plan).
Brain injury survivors know the theme of loss far too well, and it takes a great deal of strength to accept and let go of the losses that Altman describes. Even so, shouldn't we still give it a try and DIG Deep as Brene Brown suggests? The process might not go as gracefully as a leaf falling from a tree, but I am certain that the results will be just as beautiful and therapeutic.
Lesson #3: Autumn is the season of decline, but it also when nature scatters the seeds that will bring new growth in the spring
I read an abstract from The Impossible Will Take a Little While: A Citizen's Guide to Hope in a Time of Fear by Parker Palmer and I just needed to share it with the rest of you:
"Autumn is a season of decline: the days grow shorter, the light is suffused, and summer's abundance decays toward winter's death. Faced with this inevitable winter, what does nature do in autumn? She scatters the seeds that will bring new growth in the spring.
I am rarely aware that seeds are being planted. However, in retrospect, I can see in my own life what I could not see at the time–how the job I lost helped me find work I needed to do, how the road closed sign turned me toward terrain I needed to travel, how losses that felt irredeemable forced me to discern meanings I needed to know. On the surface it seemed that life was lessening, but silently and lavishly the seeds of new life were always being sewn."
I wholeheartedly believe that you can do more than just bounce back after a traumatic event or a life changing diagnosis. You can bounce forward and grow from your experiences.
Post-traumatic growth, a term coined by psychologists from UNC Charlotte, is defined on the Post-traumatic Growth Research Group's website as this: "…positive change experienced as a result of the struggle with a major life crisis or a traumatic event. It tends to occur in five general areas.
Sometimes people who must face major life crises develop a sense that new opportunities have emerged from the struggle, opening up possibilities that were not present before. A second area is a change in relationships with others. Some people experience closer relationships with some specific people, and they can also experience an increased sense of connection to others who suffer. A third area of possible change is an increased sense of one's own strength – 'if I lived through that, I can face anything.' A fourth aspect of post-traumatic growth experienced by some people is a greater appreciation for life in general. The fifth area involves the spiritual or religious domain. Some individuals experience a deepening of their spiritual lives, however, this deepening can also involve a significant change in one's belief system."
Although there were some caveats on the website that I think are important to mention here's one more thing to consider:
"Just because individuals experience growth does not mean they do not suffer and not everybody who faces a traumatic event will experience growth."
I think the key takeaway here – at least for me – is that growth is possible. There's research to prove it.
I'll leave you here as this post is getting a bit lengthy. What did we learn today (or I guess it would be more appropriate for me to ask: what do I hope you learnt today)?
Recovering from a brain injury is never easy, but that doesn't mean that your life can't be beauti-fall (Ha! See what I did there!). Embrace change, DIG Deep, let it go and watch yourself grow!
Until next time!
K
xoxo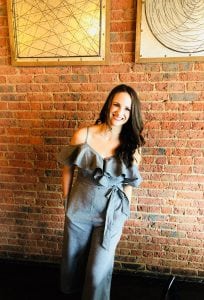 Kirsten Short was born and raised in Coquitlam, British Columbia, Canada. She has a Bachelor of Business Administration from British Columbia Institute of Technology and is a member of the Institute of Chartered Professional Accountants of British Columbia. From 2010 to early 2017, Kirsten worked in accounting firms where her client base consisted of small and medium-sized owner operated businesses, private companies, co-operatives, not-for-profit organizations and large public entities. Accordingly, she has a wide breadth of tax, advisory and assurance experience.
Unfortunately, Kirsten has been on medical leave since she suffered a concussion in February of 2017. However, she manages to stay positive despite her post-concussion symptoms, chronic migraines and visual snow. When not working on her rehabilitation, Kirsten takes full advantage of her 'good' hours by advocating for brain injury survivors and their families; this is a new passion of hers. She also enjoys yoga, reading, writing and taking her Boston Terrier, Charli, on walks. You can read more about her story on her blog: Concussions and Lawn Chairs.